Chungha has recently dropped a music video for her pre-released single Stay Tonight. The house track is composed with a mystical vibe, complemented by the songstress' strong, sultry visuals and skillful choreography with elements of voguing. To create an almost mysterious aura, Chungha has experimented with a lot of Spring makeup trends — be it sparkling elements or smokey eyes. While Chungha's Stay Tonight comeback with an album or mini album could be around the corner, let's take this chance to look into some of Chungha's makeup looks from her Stay Tonight comeback and try them out for this Spring.
Keep scrolling to discover 4 hottest Spring makeup trends from Chungha's beauty look in 'Stay Tonight'!
---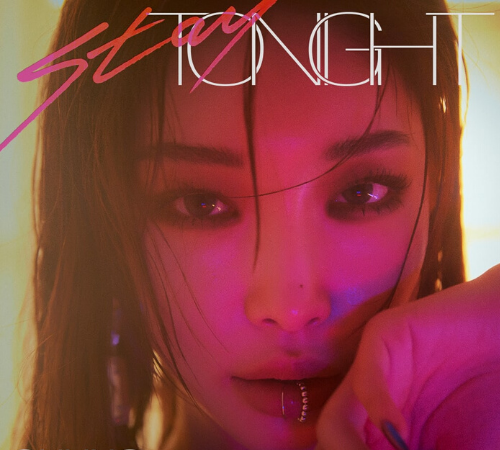 Chungha's latest 'Stay Tonight' comeback photo
If you've followed us closely on the Spring makeup trends, you'll know that sparkling embellishments, pastel eye shadow and colorful eyeliners are some of the key elements for this season and they are not going anywhere. According to Chungha's teaser image for her latest Stay Tonight comeback, this time we're gravitating to the other end of the spectrum and bringing back our old favorites — smokey eyes but with a glamorous update. This Spring makeup trend is not just the fifty shades of black or grey; we're layering another seasonal element — metallic shades — into the blend.
STYLEVANA's Makeup Tip:

Glitter is always a good idea, even for a smokey eye look. Try MACQUEEN's Jewel-Poten Eye Glitter to add some sparkly dimension to your sultry smokey eye look to amp up the sensual allure for this hot Spring makeup trend. For eye shadow, go for pewter, bronze or metallic black this Spring to bring a subtle reflective quality to your eyes and pare it down with a neutral lip and bronzer, which is definitely a Spring makeup trend essential.
Shop Chungha's Eye Shadow Recipe
---
Chungha's Flattering Nude Lips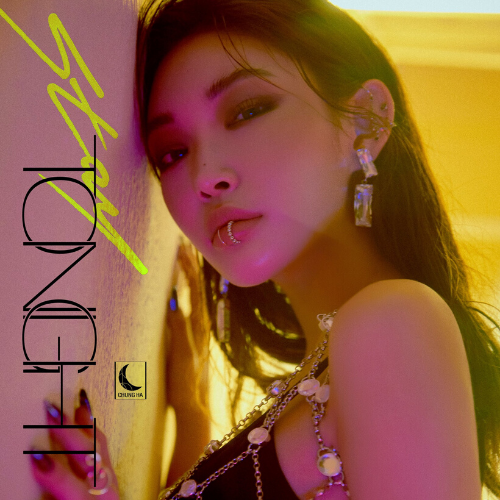 Chungha's latest 'Stay Tonight' comeback photo
The lip colors Chungha has experimented with for her latest comeback are swinging from one side of the spectrum to the other side. For some of her styling, to keep her makeup from looking chaotic, she has worn a nude lip to balance out her smokey eyes and glimmering accessories, which is another Spring makeup trend we should look out for. But for some of her statement-making looks, she has ventured into an almost goth territory with intense, dark colored lips. The key to master your lip makeup for this Spring makeup trend would be balancing — the intense dark lips to be balanced out with a fresh nude face or the neutral lips to complement a statement-making eye look this Spring season.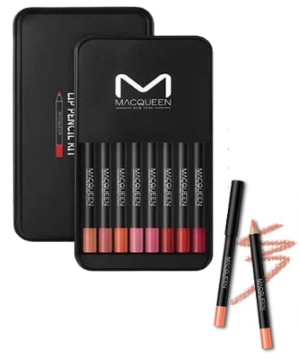 STYLEVANA's Makeup Tip:

If you want to achieve fuller-looking lips for this Spring makeup trend, the trick is to line the outer edges of your lips to make it look more refined and full. Try MACQUEEN's Retro Velvet Lip Pencil Kit to bring your nude lip look to life with the perfect pigmentation to step up your game for this Spring makeup trend.
Steal Chungha's Perfect Nude Lips
---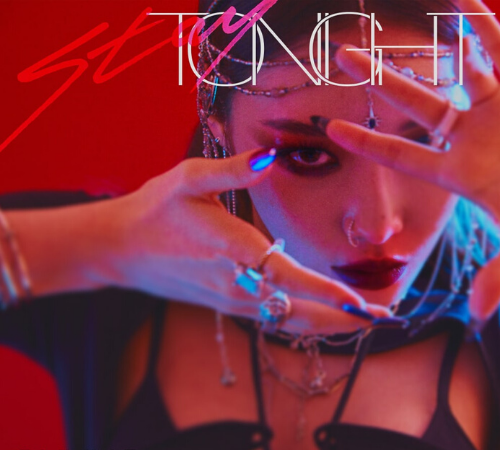 Chungha's latest 'Stay Tonight' comeback photo
We've introduced a couple of statement-making beauty looks for this Spring makeup trend. The key to master these makeup looks is to balance the rest of your face and help onlookers to stay focused on where you want them to. The equation for this Spring makeup trend is pretty simple; no matter if you have a bold colored lip or strong eye makeup, you can sweep on a stunning highlighter if you have a lighter skin tone or shading if you have a deeper complexion to outline your features by adding more dimension. For this Spring makeup trend, don't forget to make your contour look as natural as possible.
STYLEVANA's Makeup Tip:

There is more than one way to achieve a chiseled, well-contoured face like Chungha's, which is by using a concealer, like The Saem's Cover Perfection Tip Concealer. Besides a highlighter and a contour palette, choose a concealer that is one shade lighter than your skin tone and two shades deeper for contour for this Spring makeup trends. It might be less dramatic than using a normal highlighter and contour but, trust me, it will look equally stunning on you this spring.
Try Chunga's Face-Contour Combo
---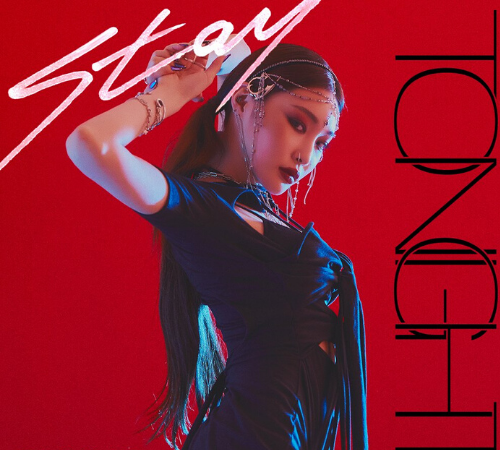 Chungha's latest 'Stay Tonight' comeback photo
Instead of contouring your cheeks with classic shading and highlighter, you can also reach for blushes to bring your cheekbones forward for this Spring makeup trend. When you're doing a statement smokey eyes or a dark colored lip that screams 'look at me', you can sweep a coordinating blushes to your cheek to further complement your look, just like how Chungha has done in her teaser image. This Spring makeup trend is all about that attention-seeking touch on the cheek that renders your look the talk of the town.
STYLEVANA's Makeup Tip:
If you're feeling to go for a pared-down style for some days, we suggest you wear the K-beauty see-through blush for this Spring makeup trend. Tap a lightweight formula onto your cheeks to create a natural, healthy flush on your skin this Spring.
Browse Chungha's Blush Collection
---
Chungha's return has provided us with a lot of inspiration for this year's hottest Spring makeup trends. Check out Stylevana's full collection of Spring Beauty Goodies so you can shop all your K-beauty makeup faves at 20% OFF! If you're a fan of MISSHA, enjoy UP TO 40% OFF on all items from the brand. We also have some NEW PICKS arriving on our shelves like VYVYD Studio and MEMEBOX with 15% OFF right now so don't miss out! Shop and SAVE 10% OFF on your favorite brands from Stylevana's Makeup Surprise Sale and start experimenting with some Chungha-approved beauty looks to champion all the Spring makeup trends this season!