With EXO's busy schedule and constant travels for overseas events and concerts, we're always curious about how all the EXO members maintain their flawless skin behind the scene. While we're all *patiently* waiting for their next release, we'll be revealing some EXO members' skincare tips and their favorite Korean brands that they have personally tried and trusted so you can get a step closer to knowing their skincare secrets! So EXO-Ls, come grab a seat and take notes! Here are 4 skincare tips that only the real EXO-Ls might know!
---
EXO Baekhyun
Courtesy of Korean Brand - TirTir
Baekhyun's dewy skin is definitely a dream that every girl wants to live. That's why we've dived deep to find out what's in Baekhyun's skincare regimen and came across his recent favorite Korean brand TirTir — a cult-favorite brand that all EXO-Ls should keep an eye out for.
If you want to achieve the coveted Korean glass skin complexion, learn from EXO Baekhyun's top skincare tip: keeping your skin moist and hydrated. Baekhyun's not-so-secret beauty weapon is TirTir's Rosemary One Essence which contains 100% Jeju rosemary extracts naturally grown and cold-brewed to retain their nutrients with a comforting water-like texture to calm and nourish your skin. Chosen as one of Allure Editor's Picks in 2019, this award-winning essence also offers ample antioxidants to protects your skin from looking dull and aged.
---
EXO Chanyeol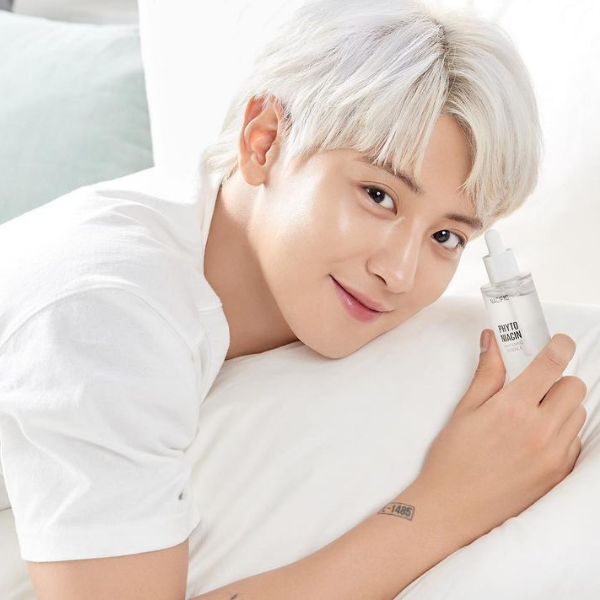 Courtesy of Korean Brand - Nacific
With all the makeup EXO is wearing on stage, it feels right that the first step of their skincare routines is washing off the makeup. But what's next? Chanyeol once shared in an interview that no matter how tired he is, he never misses doing these two steps after removing makeup — toner and moisturizer. But Chanyeol also likes to go the extra mile with Nacific's Phyto Niacin Whitening Essence.
Of course we can talk about Korean glass skin without the illuminating, pearlescent glow. EXO Chanyeol keeps his blemish-free complexion so smooth and glowy with Nacific's Phyto Niacin Whitening Essence, which is specifically tailored for dull, lackluster skin. The reason why this essence is one of EXO Chanyeol's Nacific favorites is its skin-brightening synergy effect, thanks to the rich mix of niacinamide, bamboo sap, hyaluronic acid + vitamin C derivatives. Just like EXO Chanyeol, this powerhouse essence is the hardest-worker in the bunch.
---
EXO Sehun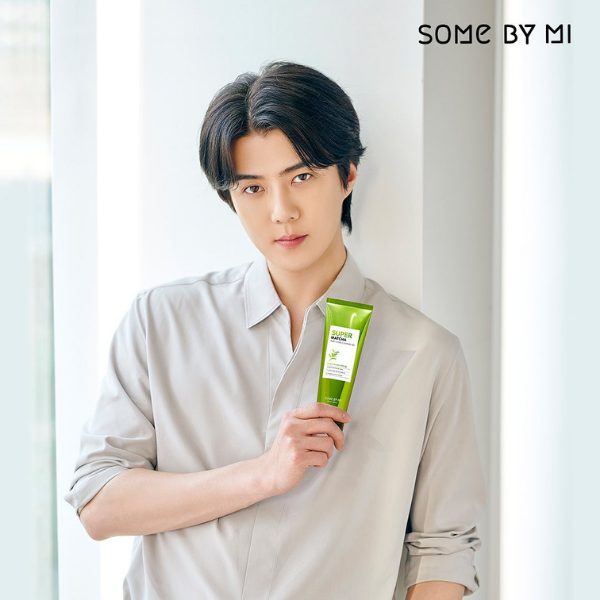 Courtesy of Korean Brand - SOME BY MI
Who doesn't love a brand that's authentic and honest? EXO's Sehun is no exception! The charming K-pop prince has become the face of the K-Beauty brand SOME BY MI and the label's latest launch is already a dream catch. The new Super Matcha series is designed to treat easily irritated skin and sensitive skin with acne struggles. So in case you're wondering where Sehun's glass skin complexion comes from, you're looking right at the skincare hero.
Sehun's trusty favorite from the series, the SOME BY MI Super Matcha Pore Clean Cleansing Gel, is a truly a godsend when it comes to pore-clearing treatment. Packed with 62% matcha water + BHA and PHA, this lightweight cleansing gel foams up with micro-micellar bubbles to purify your skin and clear the dirt from your pores. Sehun also loves the way this formula features a mix of konjac granules, calamine, green tea and tea tree powders, all to deliver a much-needed comfort and TLC to stressed skin.
---
EXO Suho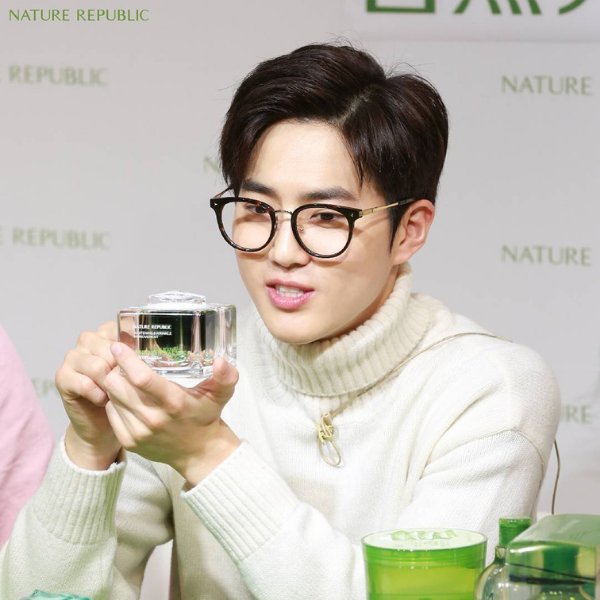 Courtesy of Korean Brand - NATURE REPUBLIC
EXO had been the official face for the K-Beauty label NATURE REPUBLIC for 8 years, and Suho had always been vocal about his love for NATURE REPUBLIC's Ginseng Royal Silk Eye Cream, aka the very important skincare tip and reason why the K-pop idol always looks so well-rested and refreshed on and off stage despite his busier-than-life daily schedule.
If you want to also fake a well-rested glow the next morning after pulling an all-nighter the night before, there's no one better to learn from than EXO Suho. Consider NATURE REPUBLIC's Ginseng Royal Silk Eye Cream your under-eyes' BFF. This luxury eye treatment contains red ginseng extract, royal jelly with silk amino acids which provides ample nourishment and moisture to your eyes. Not to mention it is formulated with 99% pure gold to help improve your dark circles and eye bags. This premium power-player comes with an eye roller to help with absorption and circulation, so sounds like a dream-boat (like Suho)!
EXO Suho's NATURE REPUBLIC Picks
---
Want a closer look at your favorite K-pop idols' skincare routine and skincare tips? Check out 6 K-Beauty Brands Your Favorite K-Pop Idols Swear By from BTS, BLACKPINK, and MORE! Explore more Korean skincare brands and get ready to achieve the perfect glass skin glow!