Good news, Christmas came early! Well, we know it's not December yet... But if you've been a fervent fan of Beauty Advent Calendar, or just looking for a pretty (but 100% valid and understandable) excuse to indulge in nice-but-niche beauty treats, you've come to the right place! STYLEVANA is *FINALLY* launching its very first exclusive Advent Calendar packed with $400 worth of top-shelf favorites for you to get into the holiday spirit (in advance), featuring cult-favorite skincare products and trending makeup products from bestselling K-Beauty brands. We're not calling ourselves "Santa Claus" but here's a sneak peek of our stunning 2021 Advent Calendar before its official launch!
---
STYLEVANA Exclusive
Advent Calendar 2021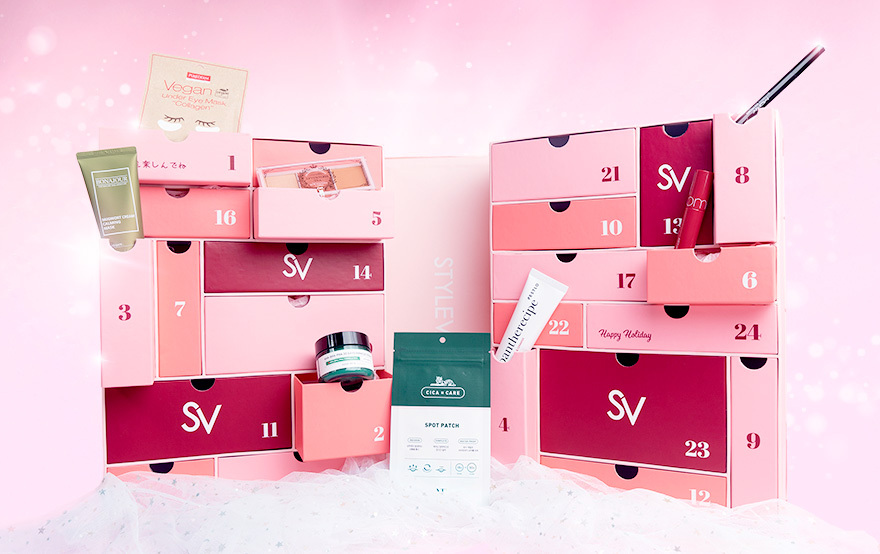 Delightfully curated with STYLEVANA's bestselling skincare products and trending makeup products, this upcoming STYLEVANA Advent Calendar 2021 is the perfect holiday treasure trove that unites everything you need to spoil yourself (and perhaps your loved ones, too!). From cult-favorite skincare brands to cruelty-free options, this Beauty Advent Calendar is the best way to help you discover a wealth of buzzy new launches and iconic classics, without having to invest a lot. If you're all for unwrapping a skincare or make-up surprise every day throughout December, keep scrolling for a closer look at what's inside of this holiday treat!
What you'll get:
Day 1: PUREDERM's Vegan Under Eye Mask Collagen (30 sheets) offers an intensive undereye-care treatment, thanks to the rich blend of Collagen, Aloe, and Vitamin to help restore moisture and elasticity as well as minimizing the signs of aging. While the nourishing formula is extra soothing for your delicate, sensitive eye area, these earth-friendly eye masks are also made from fibers that are biodegradable which is a huge plus for green beauty lovers.
Day 2: SOME BY MI's AHA-BHA-PHA 30 Days Miracle Cream (60g) is a must-have staple for your acne-fighting treatment. It contains 4 kinds of Cica extract + the powerful exfoliating ingredients AHA BHA PHA to purify, soothe, and repair your troubled skin with amazing acne care and pore care.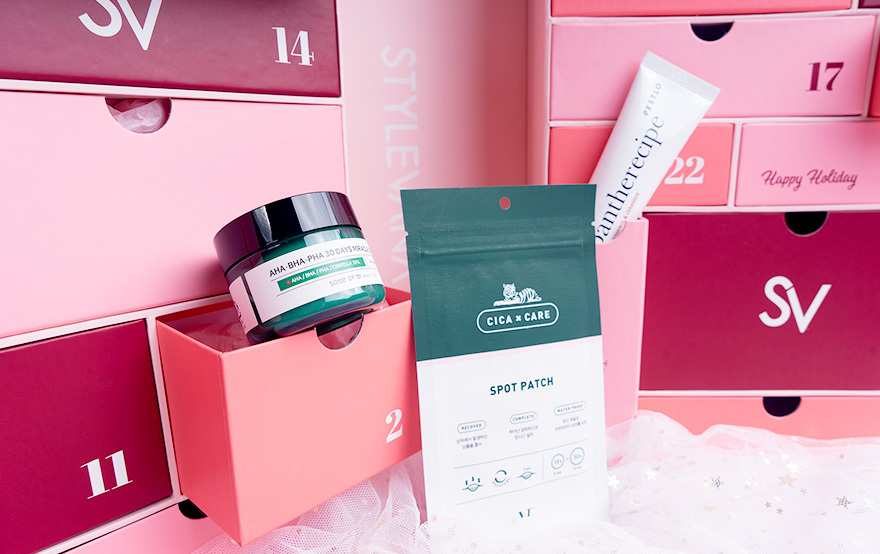 Day 3: BONAJOUR's Mugwort Cream Calming Mask (55ml) packs a wonderful (and hefty) punch of Mugwort Extracts to help soothe and calm your easily irritated skin in case of seasonal change. This wash-off mask is designed for people whose skin needs moisturization as much as it needs a relief treatment. Infused with Organic 7 + Natural Protector patented ingredients, this cream mask purifies skin for a clearer complexion.
Day 4: PESTLO's Pantherecipe Cream (50ml) serves as an ultra-soothing, moisturizing remedy for your skin. Harnessing the power of panthenol, ceramide, niacinamide, and pinus pinaster bark extract, this hypoallergenic face cream quickly penetrates into skin to brighten your dull complexion while leaving it supple and refreshed.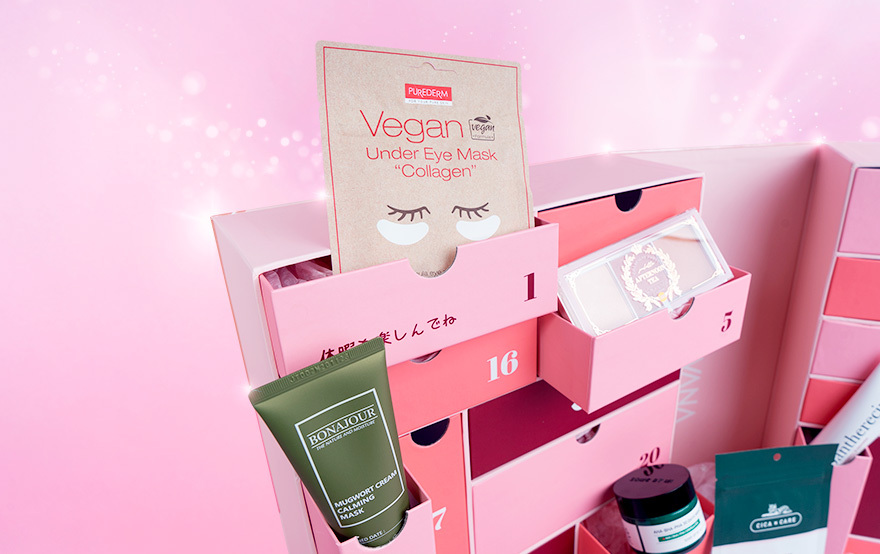 Day 5: MEMEBOX's I'M Meme I'M Afternoon Tea Blusher Palette (#03 Champagne Party) is a blush palette with 3 tea-inspired shades to lend warmth to your complexion. Packed with superfine nano-sized powder pigment, this sheer powder blush helps blur imperfections while adding a natural, healthy-looking flush to the apples of your cheeks.
Day 6: Romand's Juicy Lasting Tint (#06 Fig Fig) is a highly sought-after lip tint for its warm autumnal shade and lust-worthy shine. The subtle shade will warm up your complexion with a kissable, glossy finish in just one swipe. With just the right amount of pigmentation and color payoff, this Romand lip tint will leave your lips plump and shiny for a perfect date.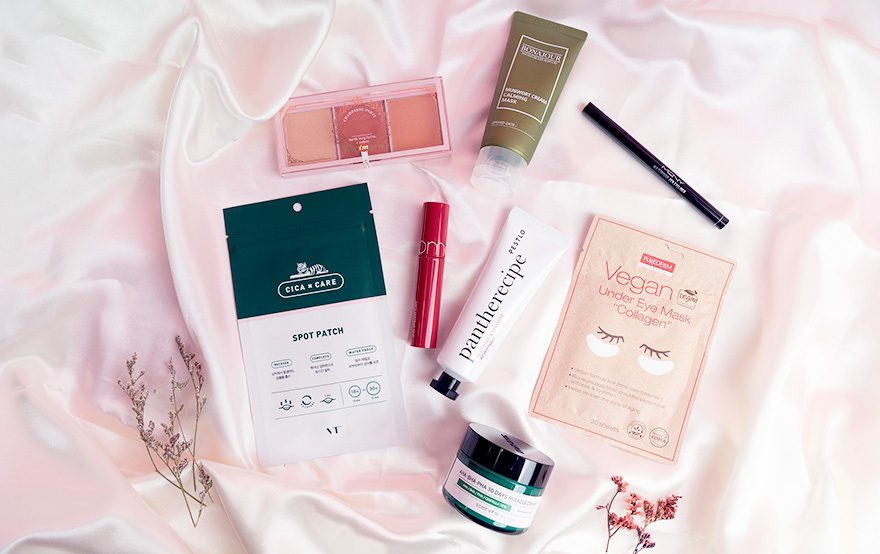 Day 7: VT's Cica Care Spot Patch is more than just a concealing solution to hide your pimples and acne spots. Formulated with anti-inflammatory centella asiatica extract, it also helps speed up the recovery and avoid wound affection, not to mention the sweat-proof, water-proof texture and skin-fitting patch.
Day 8: MACQUEEN's Waterproof Pen Eyeliner (#01 Deep Black) is the perfect eyeliner for makeup beginners. With a fine-tipped smudge-proof, waterproof eyeliner like this, you can create deep and defined eye lines quickly and effortlessly for different eyeliner looks in easy-to-contour thin, smooth strokes that can be layered for a bold eyeshadow look.
---
Spot any of your favorite skincare products and trending makeup products? Join our Lucky Draw and earn a NEW ENTRY per PURCHASE for a chance to WIN this Advent Calendar! Stay tuned for the next guide where we reveal and unpack more of this collection! Don't miss out on our Instagram GIVEAWAY (check out this post for more details) and win yours before Oct 20! Follow us on Facebook to get more instant product updates and skincare tips!