Lipsticks, lip gloss, lip tints or even lip balms; these products always hold an important place in my heart as the core of my makeup routine. In fact, I never leave my apartment without my lippies.
And up until recently, I have finally got a hand on the cult favorite K-beauty brand 3CE's lipstick line-up. Obviously, my initial attention stemmed from the sleek packaging displayed in tonal gradient. 3CE's formulas are some of the coolest and most used in my lip collection and for good reason: they are easy to apply and look totally effortless. So, let's take a look at all of my faves.
Long-wearing matte
First I have one of 3CE's most popular lines, the unbeatable matte lipsticks. They come in 10 earthy shades, including a unique dark brown-red shade called Chicful, which is perfect to wear in fall. The range is made with and high pigmentation in a creamy, matte finish without the drying, flaking over time. Although it has long-wearing power, you will be surprised how easy it can be removed with a bit of oil cleanser!


3CE - Mood Recipe Matte Lip Color (10 shades available on Stylevana)
Popular Colors: 115 Muss, 117 Chicful, 218 Mirrorlike
Pigmentation: 4/5 Staying Power: 3/5


Sherbet-like tint
The lip tints I usually use are super liquidy, almost like a watery serum. But 3CE's buttery Velvet Lip Tint truly brings a different game on the table. Available in a wide range of shades for daily styling or bold occasions, this petal-like lip tint is also one of the 3CE most popular lip products owing to its longevity and velvety formula that practically melt into your lips to give you intense pigmentation without drying your lips.


3CE - Velvet Lip Tint (23 shades available in Stylevana)
Popular Colors: Going Right, Taupe, Save Me
Pigmentation: 4/5 Staying Power: 3/5


A vivid velvet shade
With 'velvet' in the name of 3CE's product, it never disappoints. This clutch-friendly, 'slim'- line lipstick is more than just another awesome lip product to grace 3CE's velvet lip collection! This Slim Velvet Lip Color lipstick comes in a feast of gorgeous shades that fill the ridges with velvety color with lasting full coverage. If you are in search of the ultimate peach shade that can brighten up your romantic, adorable makeup look, you may consider the Peach Play and Gotta Sing, which are my ultimate favorite.


3CE - Slim Velvet Lip Color (20 shades available in Stylevana)
Popular Colors: Fluffy Red, Gotta Sing, Peach Play
Pigmentation: 4/5 Staying Power: 4/5


Lip care with a dash of color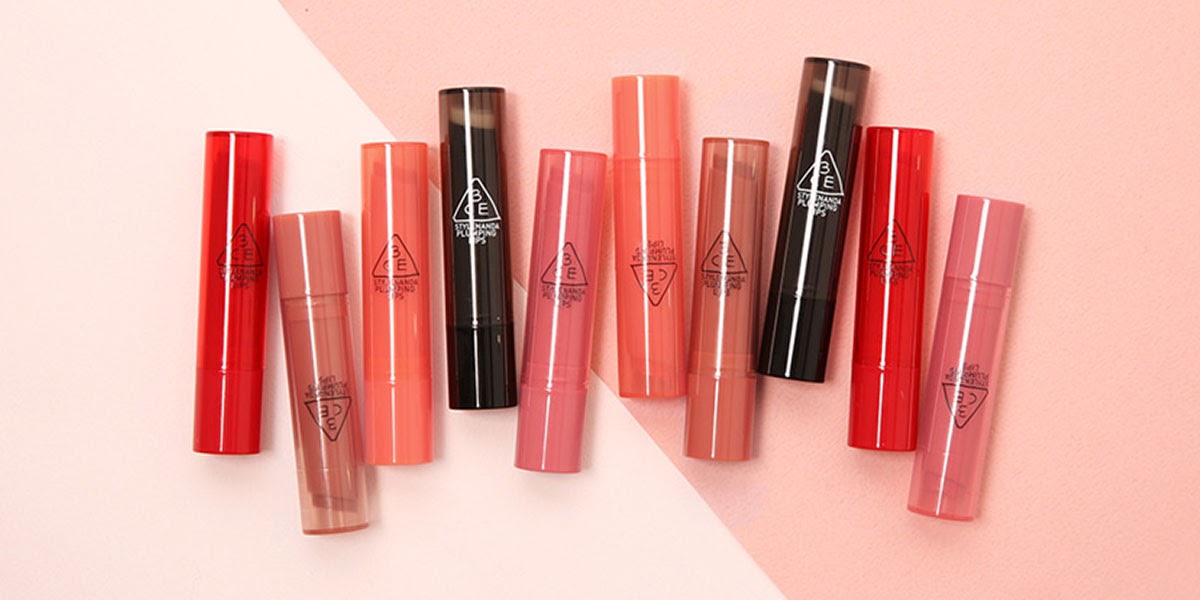 Balm-textured tints continue to conquer the K-Beauty scene and 3CE's Plumping Lips is one you need to take note of. As glossy balm tints tend not to stay on for long, 3CE presents this formula in a jelly-like texture with a non-sticky moisture veil that gives you a plumping shine with strong longevity. It's perfect for daily use since it doubles as a lip protectant to prevent the lips from chapping.


3CE - Plumping Lips (5 shades available in Stylevana)
Popular Colors: Pink, Coral
Pigmentation: 3/5 Staying Power: 3/5


Eyeing any 3CE's lip colors for your next makeup shopping spree? Also, check out 3CE's Heart Pot Lip Balm and their collaboration with Parisian fashion brand Maison Kitsuné.
Interested in finding that perfect shade? Check out this article on the easiest way to do statement lips and this article on the tips of choosing a lip color for your skin tone.