Cult-favorites, for all the right reasons. If you're a fervent skincare junkie who believes in the science of beauty like Michelle who goes by the name Lab Muffin (or Lab Muffin Beauty Science), you might want to start sorting out your skincare routine because here's her list of tried-and-loved beauty products that will help you take your skincare game to the next level. Whether it's K-Beauty or J-Beauty products that deserve a spot on your radar, let Lab Muffin be your guidepost and pick your next love-at-firt-try picks. Scroll down and get some inspiration!
---
No. 1
Rohto Mentholatum – Rohto Melano CC Concentration Measures Essence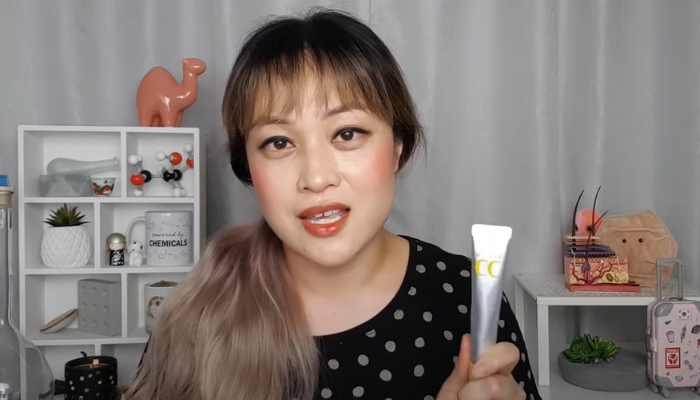 Courtesy of Stylevana Influencer Lab Muffin Beauty Science
"I've been using this for my post-inflammatory hyperpigmentation from mask wearing, and it's been working really well."
If you have any Vitamin C products on your shelf, you'll know the struggle of keeping them stable and preventing from oxidizing so quickly. Trusting the logic of science behind her skincare, Michelle — our favorite Lab Muffin — is most impressed by the innovative packaging of the very buzzworthy Rohto Melano CC Essence that keeps the worrying oxidation at bay. The carefully-designed tube package and dropper-head shield the Vitamin C solution from being exposed to sunlight and air so it can be stabilised without going brown.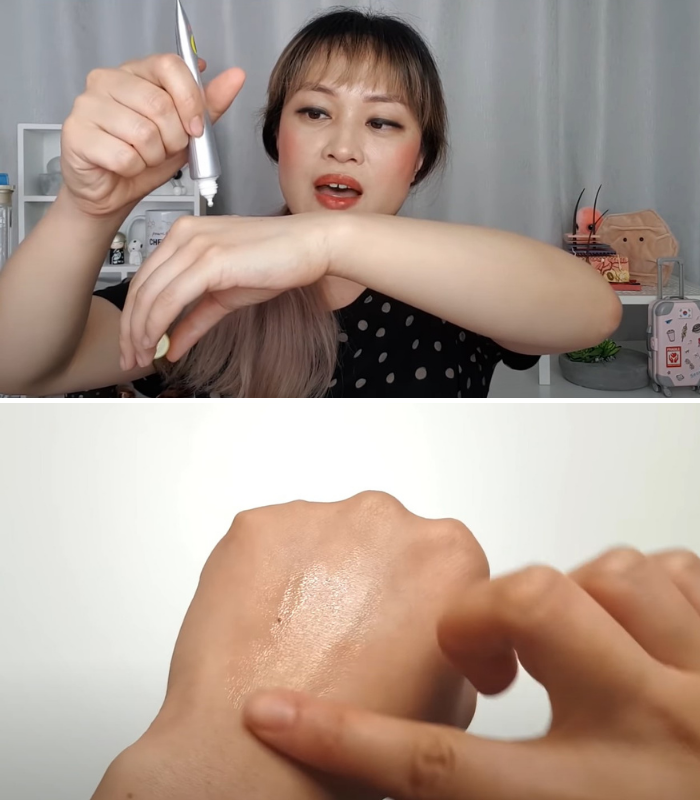 Courtesy of Stylevana Influencer Lab Muffin Beauty Science
The hype for this J-Beauty bestseller doesn't stop there. Featuring ascorbic acid, this Vitamin C serum is the perfect spot treatment for acne scars and dark spots, also loaded with Vitamin E derivatives to help stabilize the formula while addressing your different skin concerns including hyperpigmentation and minimizing oxidative damage to the skin. Lab Muffin also listed two more active ingredients, dipotassium glycyrrhizate + thymol, which are the mighty heroes you need for anti-inflammation and anti-acne treatment. Texture wise, this super-lightweight essence will actually make you look forward to re-applying it during the day.
---
No. 2
Kao - Biore UV Aqua Rich Watery Essence SPF50+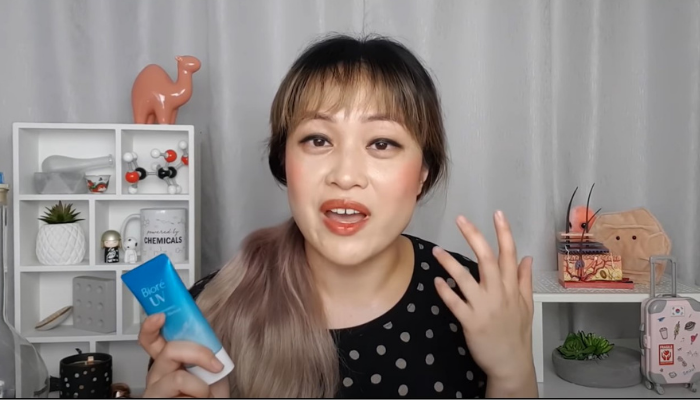 Courtesy of Stylevana Influencer Lab Muffin Beauty Science
Wearing sunscreen daily is easily the number one tell-tale sign to know if a person is into Asian beauty or not (number two being the double-cleansing method, of course). That's why there are lots of lightweight Asian sunscreens that are meant to be worn under makeup and on the go. One of Lab Muffin's tried-and-tested favorites is the Biore UV Aqua Rich Watery Essence, a water-resistant sunscreen that boasts a really skin-loving texture.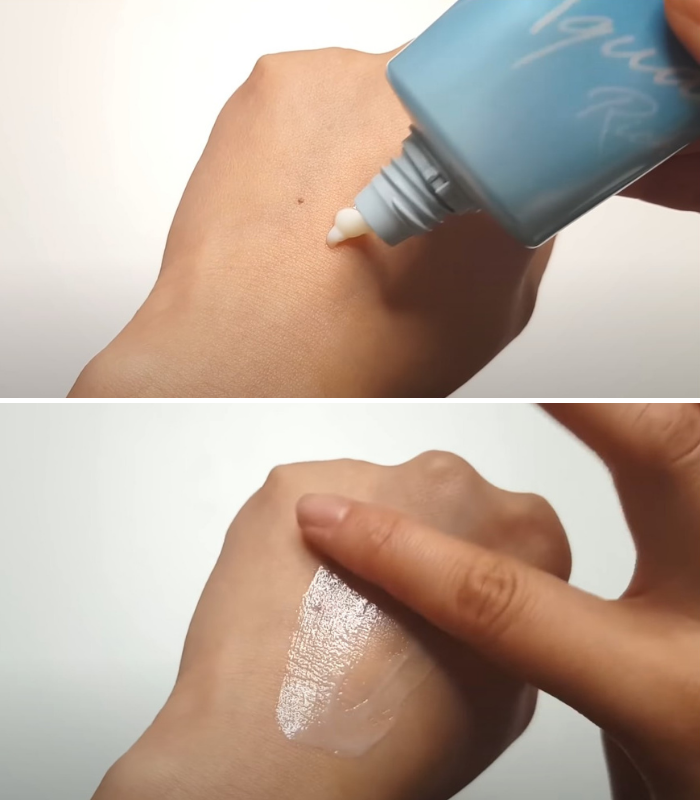 Courtesy of Stylevana Influencer Lab Muffin Beauty Science
"It has one of the nicest textures I've ever tried in a water-resistant sunscreen, and lots of hydrating ingredients."
It seems like this Biore sunscreen keeps getting reformulated every two years for better and improved versions based on customers' needs. And now the latest 2019 edition is SPF50+ and PA with 4 "pluses" which is the highest protection level you can get for Japanese sunscreen. This all-time favorite sunscreen is enriched with a team of newer filters but here's the twist: it does NOT have titanium dioxide which is a very common ingredient for asian sunscreens that comes with a white cast. Not to mention the world's first micro defense formula + tiny capsules of oil-soluble sunscreen ingredient that make the sunscreen go on your skin evenly with higher coverage while keeping it lightweight and breathable.
---
No. 3
Rohto Mentholatum - Skin Aqua Sunscreen Super Moisture Gel Pump SPF50+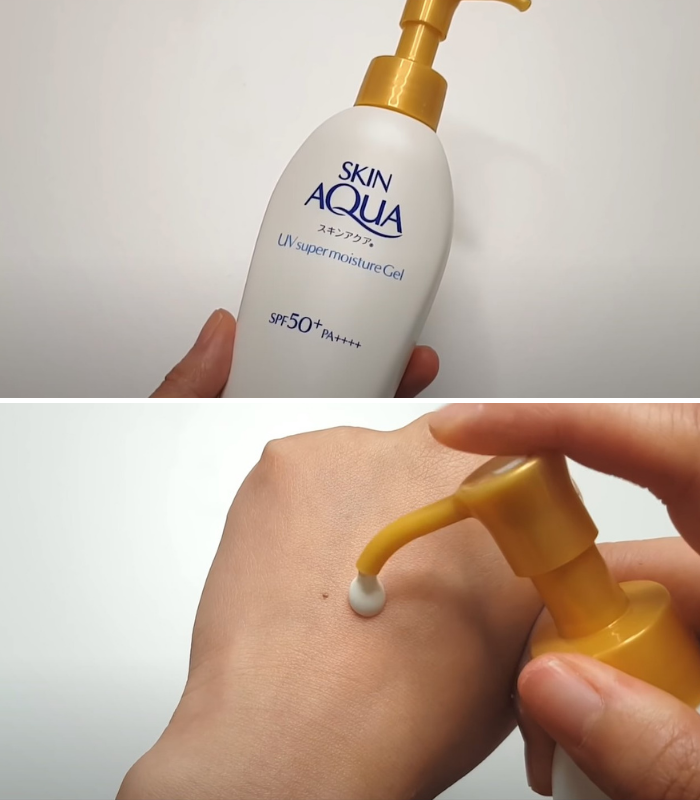 Courtesy of Stylevana Influencer Lab Muffin Beauty Science
"It has a pump bottle which is super handy!"
The next sunscreen on Lab Muffin's try-list is the Rohto Mentholatum Skin Aqua Sunscreen, which checks all the boxes for a budget-friendly sunscreen: a fantastically (in Lab Muffin's own words) light texture, water-resistant, fragrance free, and comes in a wallet-saving, large pack size (a whopping 140g!) compared to other facial sunscreens in the market, especially among western beauty brands. This sunscreen doesn't feel drying at all, which is a huge plus for people with naturally dry skin, thanks to all the hydrating ingredients in it such as glycerin, hyaluronic acid + hydrolyzed collagen.
---
No. 4
Shiseido - Anessa Perfect UV Sunscreen Skincare Milk SPF 50+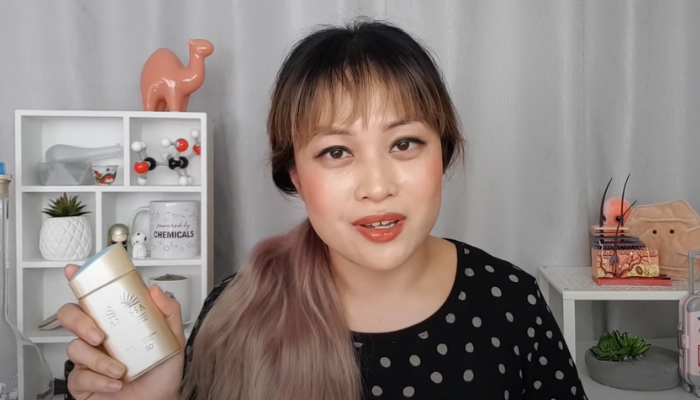 Courtesy of Stylevana Influencer Lab Muffin Beauty Science
"It works super well under makeup and is a fantastic makeup primer!"
Lab Muffin ranked this Shiseido Anessa Sunscreen as the crowning glory of her sun-safe routine for all the right reasons. She mentioned that her oily skin and the humidity in Sydney (where she currently lives) make it hard for her to pick the right sunscreen — until this Anessa sunscreen came along. She is currently using the 2020 edition of the Shiseido Anessa sunscreen, which combines all the high-functioning sunscreen filters with up to 80-minute water resistance. And it doesn't stop there, it's also — wait for it — rub resistant, sweat resistant, heat resistant *AND* mask-stuffiness resistant (which couldn't be more fitting at times like these).
---
No. 5
SOME BY MI - AHA-BHA-PHA 30days Miracle Acne Clear Body Cleanser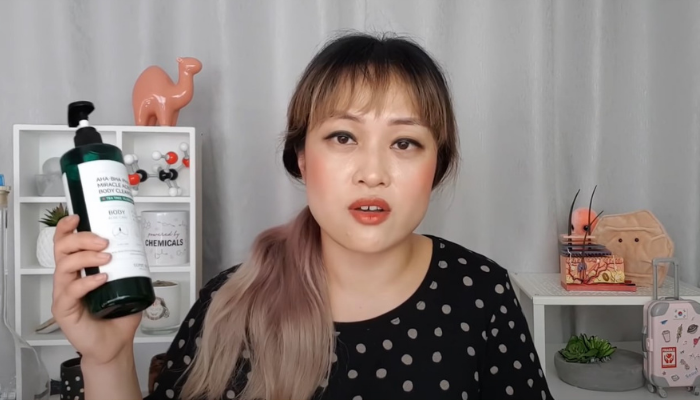 Courtesy of Stylevana Influencer Lab Muffin Beauty Science
"I was excited to finally see a body acne product to treat my back acne. I've been using it for 6 weeks and am starting to see some results!"
Body acne is a struggle that does not get talked enough about. Lab Muffin shared her own experience where the current hair-conditioning products she's using are clogging the pores on her back so she gets a lot of back acne. This SOME BY MI Body Cleanser is her new savior which is housed in a huge bottle with an easy-to-use pump top which is always convenient for a bathroom staple. It foams up and rinses off really well, along with tons of acne-fighting ingredients like tea tree oil, centella asiatica, salicylic acid, citric acid and more.
---
No. 6
Courtesy of Stylevana Influencer Lab Muffin Beauty Science
Creating the perfect brick colored lipsticks is Romand's forte, which is why Lab Muffin is happy to put the brand's Best Tint Edition collection to the test. This trio boasts a warm, orange-coral undertone featuring one matte Zero Velvet Tint + two glossy Juicy Lasting Tints.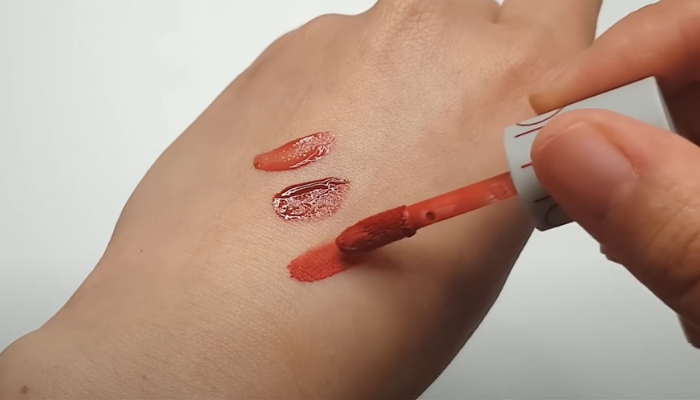 Courtesy of Stylevana Influencer Lab Muffin Beauty Science
"After the matte lipstick wears off, you're left with a really pretty tint."
This Romand lipstick kit is perfect for those who want to experiment with different spring looks without committing to a single lipstick. Think of it as a best-of-both-world situation where you can wear a matte lip or rock a glossy lip look that matches your mood for the day. And Lab Muffin's tips? Go for the Zero Velvet Tint if you want a more solid, pigmented lip look, or pick the Juicy Lasting Tints if you like something more natural. These lip candies are super moisturizing as well so if you always have dry patches on your lips, you can totally wear them without worry!
---
Looking for more beauty inspo from our favorite Stylevana Influencers? Check out Hyram's list of K-Beauty favorites to upgrade your Korean skncare routine like a pro! Follow us on Instagram and Facebook to get more instant product updates and skincare tips!