While the boys from BTS are busy "shining through the city with a little funk and soul," I thought it'd be fun for us to break down their retro disco-esque aesthetic and all the beauty looks featured in their Billboard No. 1 single 'Dynamite' to give ARMY some glow-up inspirations. From makeup, hair to outfit, we'll be looking at all the stunning edits and vibrant visuals from the mega hit Kpop group's 'Dynamite' to bring you the best BTS inspired Korean beauty and fashion tips! So "bring a friend, join the crowd" and dive into it!
---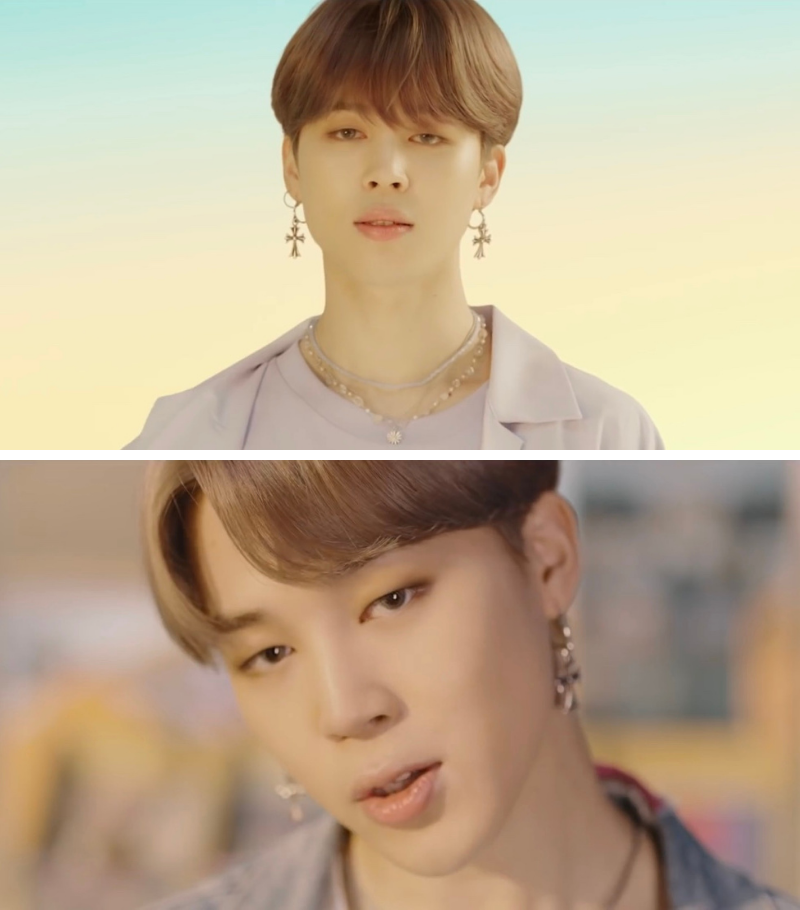 BTS Jimin's glossy lips and soft gaze in 'Dynamite' MV
Of course we have to talk about our Baby Mochi, aka BTS Jimin's ethereal 'soft boy' beauty look in 'Dynamite'. I know we're all falling head over heels for his soft gaze, but the star of Jimin's beauty look goes to his glossy lips and subtle smokey eye makeup
To match his delicate 'soft boy' aesthetic, Jimin goes light on his lips with a nude lip gloss featuring a sheer coral undertone, which brings everyone's focus to his toned-down smokey eye makeup. To recreate Jimin's look, all you need is a pair of colored contact lenses + a nice wash of charcoal brown around the eye corner in a subtle gradient finish.
---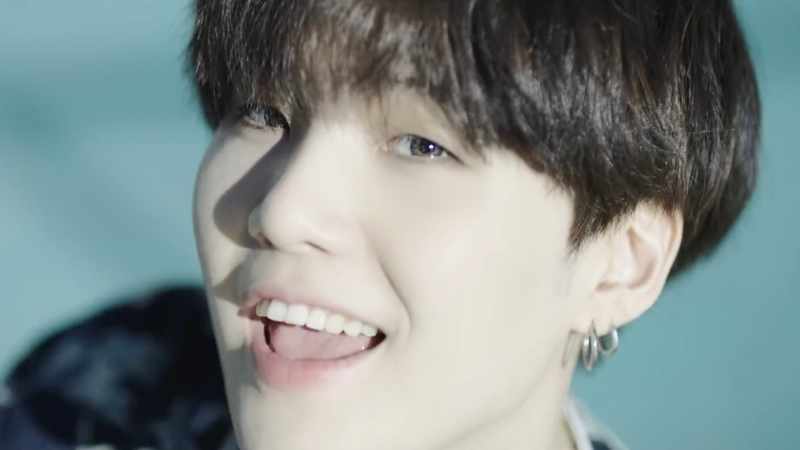 BTS Suga shows off his flawless 'mochi skin' complexion in 'Dynamite' MV
Apart from his gummy smile, BTS Suga is also known for his 'mochi skin' complexion while being the member with the fairest, lightest skin tone. So we don't blame you if you find his skin enviable. During his appearance in 'Dynamite' MV, Suga has an iconic close-up shot that perfectly reveals his flawless true-to-skin base makeup.
To achieve his mochi-like complexion, you'll need the perfect matte foundation cushion to set up the base makeup along with a concealer to cover your blemishes and spots. For the final makeup step, innisfree's Pore Blur Powder is the perfect setting powder to bring you the ultimate poreless effect.
---
RM's Pastel Blue Hair + Bold Brows Look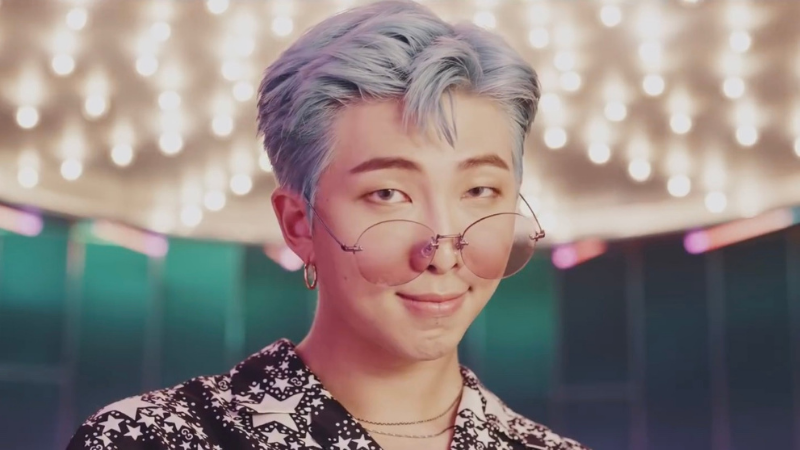 BTS RM's pastel blue hair + bold brows look in 'Dynamite' MV
I think we can all agree that RM's pastel blue hair style stole the spotlight in 'Dynamite' MV. This fan-favorite hairstyle might make ARMY reminisce about BTS Young Forever era but this time RM did it with a bold brow look which makes the pastel blue stand out even more. To achieve those prominent brows like RM, start with a brow tint if you are blessed with bushy eyebrows, or you can work your eyebrows slowly with a brow tattoo or a brow pencil to get them in good shape!
---
Jungkook's Denim-On-Denim Outfit
BTS Jungkook's 90s denim-on-denim look in 'Dynamite' MV
Jungkook drinking milk in his double denim ensemble is just ICONIC. In his first solo scene in 'Dynamite' MV, Jungkook gives off a relaxed vibe in his retro denim-on-denim outfit, which is a perfect ensemble to wear in the Autumn season. Casual and stylish, this urban apparel will go well with your minimalistic edits. Think denim jacket, denim jeans + a simple white tee then you're good to go!
---
Jin and Jungkook's Love for Vintage Patterns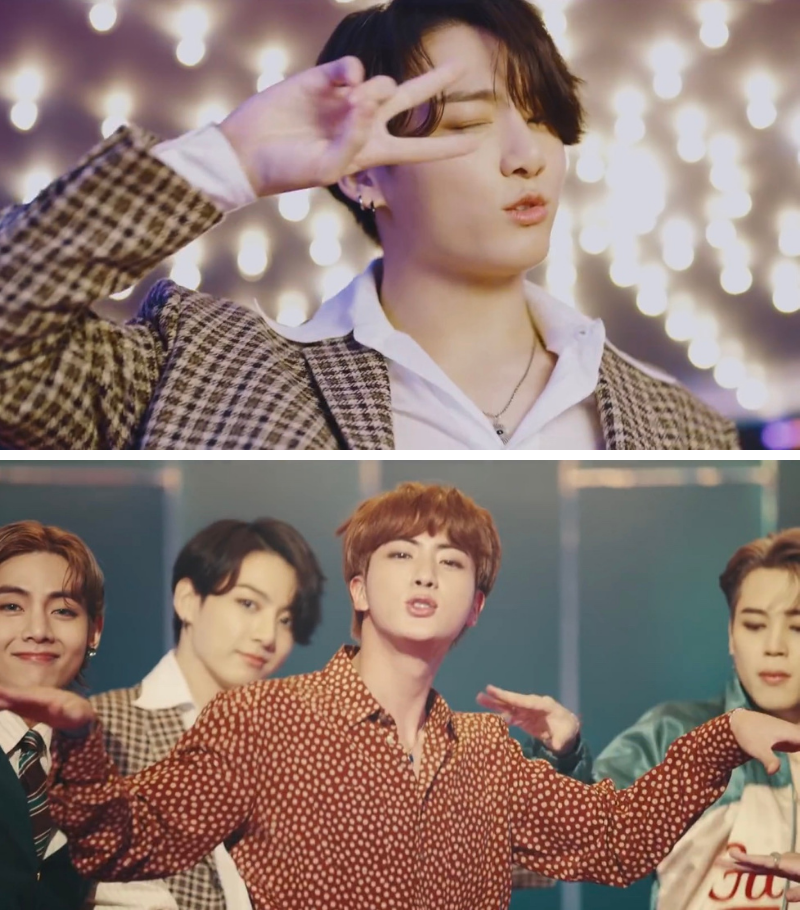 BTS Jin and Jungkook wearing classic patterns, checks and polka-dots, in 'Dynamite' MV
Checks and polka dots have never looked so good, so we have Jungkook and Jin to thank for bringing back these classic vintage prints to our fashion radar. Style these vintage prints with a multi-colored checked jacket like Jungkook, or a simple button down t-shirt like Jin to match the retro aesthetic from the 'Dynamite' MV. These never-out-of-style vintage prints will definitely lend an old-school touch to your fall closet!
---
V's 90s Slicked Back Soft Blonde Hair
BTS V shows off his new soft blonde hairstyle in 'Dynamite' MV
We all know V is the king of duality, that's why his soft blonde hair style in 'Dynamite' looks perfect on him whether it's in a sexy slicked-back or a cute perm. So if any ARMY is looking for a sign to switch up their hair color this season, this is your sign — try Dariya's Bubble Pack for the perfect hair dye job to match V's soft blonde hairstyle. For those who want to see your man try the slicked back hairstyle, simply use Gatsby's Water Gloss Wet Look Gel to complete the look!
---
Not getting over BTS's 'Dynamite' hype any time soon? Well, that makes all of us… But the good news is, you can still have fun and try these makeup looks and outfits yourselves at home while blasting 'Dynamite' on repeat (like me). Enjoy up to 30% OFF on colored contact lenses so you can look ethereal like Jimin, or pick up a new hair dye to match your favorite BTS member's hair color!