Feel like restocking your skincare arsenal with more powerhouse ingredients? STYLEVANA's own exclusive VANA Box collection is already at your service! In case you haven't heard (or read Part I of our VANA Box guide), STYLEVANA is *finally* launching its own VANA Box collection, featuring three different beauty boxes each packed with three most-loved ingredients of the season: centella asiatica, aloe vera, and vitamin C. So if you're down to experiment with different Korean skincare products powered by aloe vera and vitamin C, keep scrolling to discover why the Aloe Soothing Box and Daily Vitamin C Box will be your next add-to-cart favorites!
---
STYLEVANA Exclusive
For Irritated Skin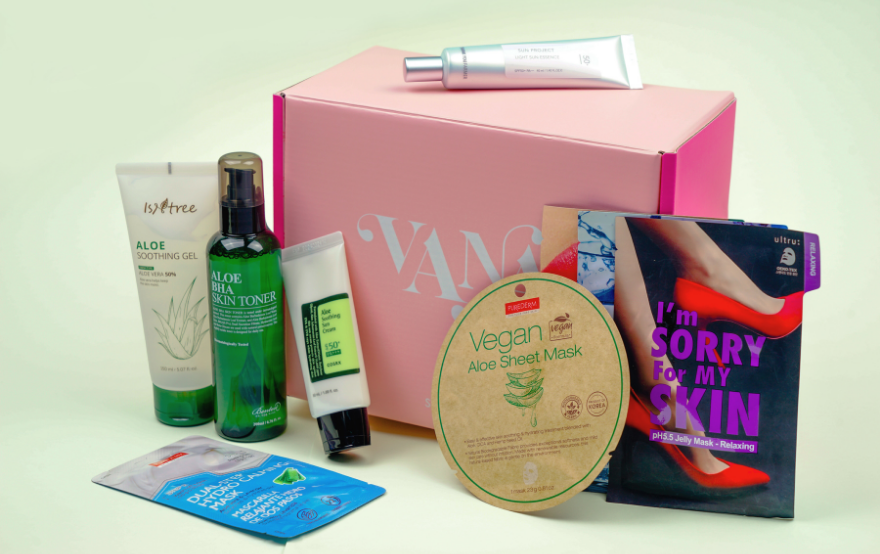 STYLEVANA is taking your after-sun skincare ritual to the next level with this Aloe Soothing Box. Featuring nine best aloe vera products to treat your sun-kissed skin this summer, this ultra-soothing skincare set is packed with aloe vera face masks, aloe vera gel, and other aloe vera skincare essentials from our most-loved K-Beauty brands, including Isntree, COSRX, Benton, PUREDERM, I'm Sorry For My Skin, and THANK YOU FARMER.
What you'll get:
1. Isntree's Aloe Soothing Gel Fresh (150ml) is formulated with 50% aloe vera leaf extracted from Aloe from California to effectively calm and soothe your skin that is irritated by UV light and another external stimulus after your beach date.
2. COSRX's Aloe Soothing Sun Cream is a sunscreen moisturizer that keeps your skin hydrated and dewy without feeling greasy, thanks to the nourishing addition of aloe vera leaf extract. It goes on super smooth and sinks in quickly without a trace of white cast.
3. Benton's Aloe BHA Skin Toner (200ml) is enriched with a team of all-star ingredients such as aloe vera and salicylic acid to de-stress your troubled skin and fight acne while brightening and tightening your skin.
4. THANK YOU FARMER's Sun Project Light Sun Essence (40ml) is infused with cooling aloe vera leaf extract that targets redness and calms irritation. Its rich blend of sacha inchi oil + lotus flower water also helps soften the appearance of fine lines and bolster skin's resilience while deflecting the damaging effects of UV rays without smothering your skin to maintain a smooth, semi-matte finish.
5. PUREDERM's Vegan Aloe Sheet Mask (1pc) is an effective skin soothing and hydrating treatment blended with aloe vera, cica and hemp seed oil all packed in a biodegradable sheet mask to leave your skin soft and hydrated.
6. PUREDERM's Dual-step Hydro Calming Mask Aloe Vera & Lavender (1pc) serves a 2-in-1 skincare treatment that begins with a peeling gel (enriched with Apple, Lemon & Orange Extract for gentle exfoliation) and ends with an aloe wash-off mask (packed with aloe to replenish nutrients and hydration).
7. I'm Sorry For My Skin's Ph 5.5 Jelly Mask Moisture (1pc) harnesses 3 layers of hyaluronic acid to deliver moisture and hydration to dry and dehydrated skin.
8. I'm Sorry For My Skin's Ph 5.5 Jelly Mask Relaxing (1pc) is laced with a nourishing blend of centella asiatica and collagen to relieve your stress-worn skin and improve your skin's balance to achieve a natural radiance.
9. I'm Sorry For My Skin's Ph 5.5 Jelly Mask Purifying (1pc) is formulated with AHA to help remove dead skin cell and unclog your pores to make your skin smooth and even toned.
---
STYLEVANA Exclusive
For Dull, Lackluster Skin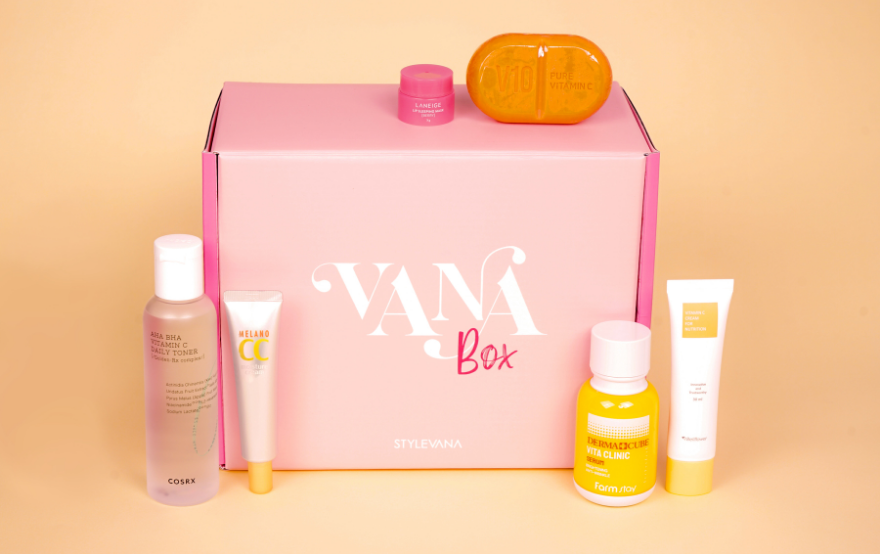 Never a dull-skin moment as long as you have this Daily Vitamin C Box as your go-to skincare kit. Presenting six powerful vitamin C skincare products, this glow-boosting skincare collection will ensure your skin is provided with the best vitamin-rich nutrition and antioxidant power from vitamin C serum and vitamin C toner, and other vitamin c essentials from our most-loved K-Beauty brands, including SOME BY MI, Farm Stay, Rohto Mentholatum, Bellflower, COSRX, and LANEIGE.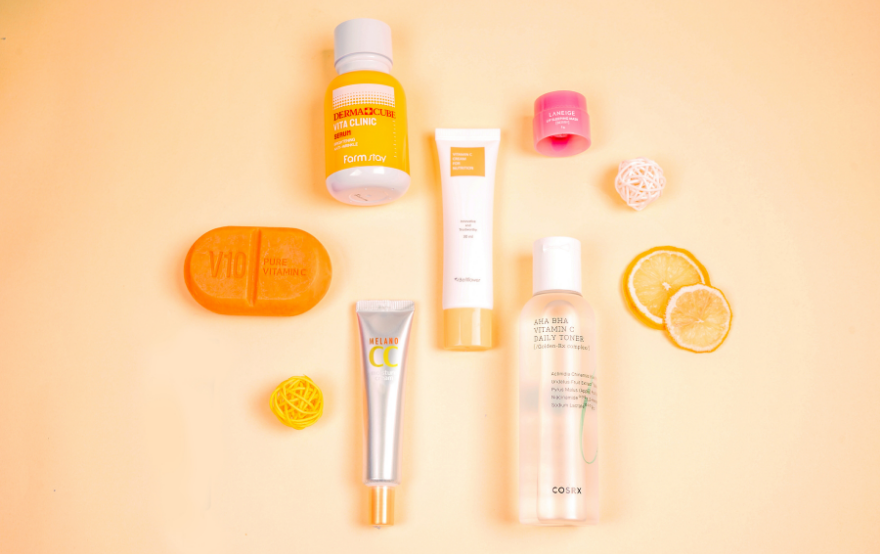 What you'll get:
1. SOME BY MI's Pure Vitamin C V10 Cleansing Bar (1pc) contains highly concentrated (15,000 ppm) pure Vitamin C and 10 types of multi-vitamins to cleanse off the accumulated impurities on your skin while adding a moisturized feeling with vegetable oil.
2. Farm Stay's Dermacube Vita Clinic Serum (50ml) is a moisture-boosting vitamin C serum that strengthens the moisture barrier for your skin. It revives your dull complexion and renews your skin with a well-rested glow.
3. Rohto Mentholatum's Rohto Melano CC Brightening Vitamin C Moisturizing Cream This serum contains Vitamin C and Vitamin E derivatives to help fade and prevent dark spots and acne scars while dipotassium glycyrrhizate and thymol help reduce redness and irritation.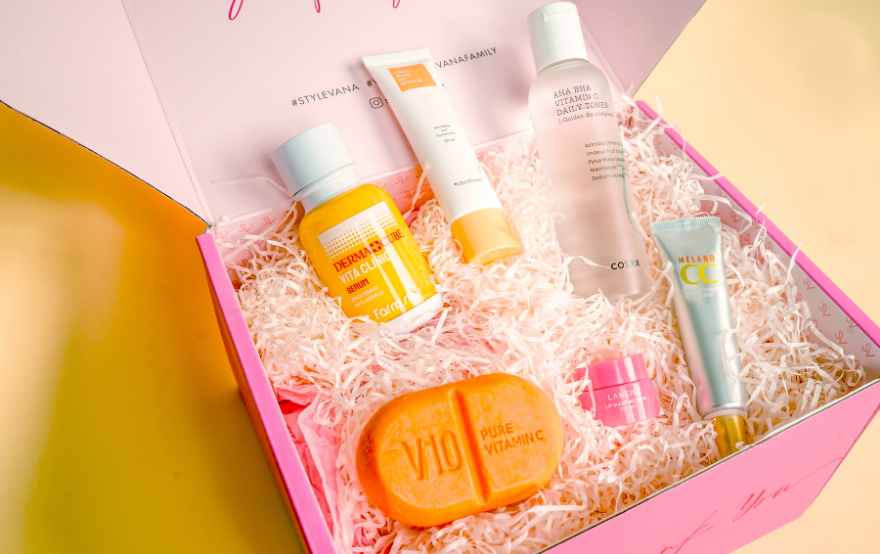 4. Bellflower's Vitamin C Cream for Nutrition (30ml) is hailed for its skin-loving blend of 4% niacinamide + Vitamin C-derivatives including ascorbyl glucoside, ascorbic acid, magnesium ascorbyl phosphate. This lightweight, fragrance-free face cream helps brighten your skin tone and promotes skin resilience.
5. COSRX's Refresh AHA BHA Vitamin C Daily Toner (150ml) will become the next crowning glory of your Korean skincare routine. Designed for dull skin complexion, this skin-saving daily Korean toner contains AHA, BHA, and Vitamin C to mildly exfoliate the skin to leave it refined and radiant.
6. LANEIGE's Lip Sleeping Mask Berry (3g) is a stay-on lip mask that works perfect for those who wear heavy lip makeup during the day and hope to reset and rest for the night. Infused with hyaluronic acid mineral, this bestselling lip sleeping mask also helps lock in active ingredients and retain moisture through the night, allowing your lips to breathe and restore its radiance.
---
Explore more about centella asiatica, aloe vera and vitamin C, and build your skincare arsenal with the Cica Care Box, Aloe Soothing Box and Daily Vitamin C Box to upgrade your Korean skincare routine. Follow us on Instagram and Facebook to get more instant product updates and skincare tips!