Your vanity is due for a summer makeover, and STYLEVANA's own exclusive VANA Box collection is already at your service! In case you haven't heard (or read Part I of our VANA Box guide), STYLEVANA is *finally* launching its own VANA Box collection, featuring 5 different beauty boxes all packed with all-hits-no-miss bestsellers and skin-loving Korean skincare products to upgrade your skincare routine! If you're as hyped up as I am just from reading the last sentence, keep scrolling to meet the rest of the VANA Box collection and add your favorite to your summer wishlist!
---
STYLEVANA Exclusive
For Glow-Getters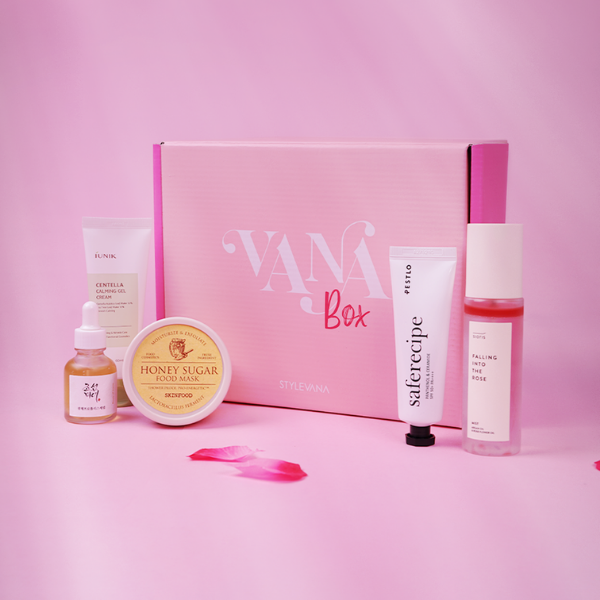 Set to redefine the meaning of glowing skin, this Glow Skin Booster Box unites all the supercharged boosters to restore your skin's natural radiance. From face mist to serum, this VANA Box is curated with the best dew-delivering holy grails from Sioris, iUNIK, BEAUTY OF JOSEON, SKINFOOD, and PESTLO that will turn your dewy-skin goals into reality, no matter the skin types.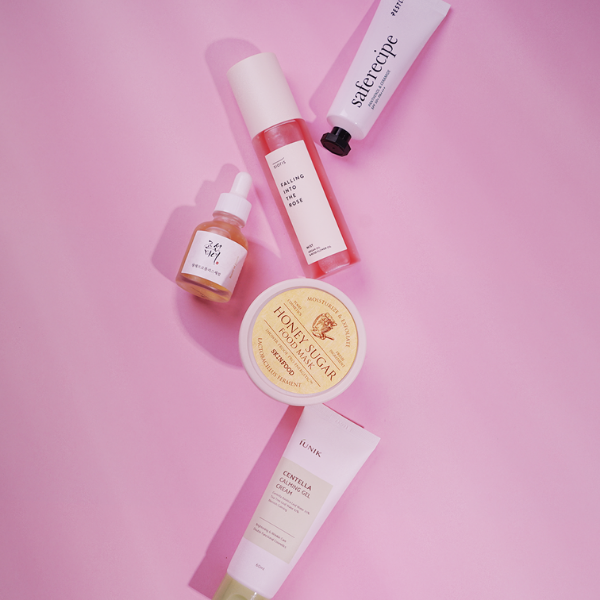 What you'll get:
1. Sioris' Falling into the rose Mist contains a nourishing blend of organic ingredients including green tea, cypress leaf extract, olive-derived squalane + argan oil to deliver a refreshing glow for your oily and sensitive skin.
2. BEAUTY OF JOSEON's Glow Serum is enriched with propolis + niacinamide to help soothe acne-prone skin and revive your tired, lackluster complexion with a renewed glow.
3. iUNIK's Centella Calming Gel Cream is packed with 70% Centella Asiatica leaf water + 10% Tea Tree leaf water to moisturize extremely dry skin and calm sensitive, blemished skin, thanks to the gentle skin-cooling sensation.
4. SKINFOOD's Honey Sugar Food Mask combines Brazilian black sugar, manuka, and acacia honey to gently exfoliate and restore hydration to the skin for a purified, smooth complexion.
5. PESTLO's Safe Recipe Sun Essence is formulated with a high concentration of sun-protection ingredients like titanium dioxide and zinc oxide that helps shield the skin from harmful UV by creating a physical barrier and a mattifying, fast-absorbing finish.
---
STYLEVANA Exclusive
For K-Beauty Beginners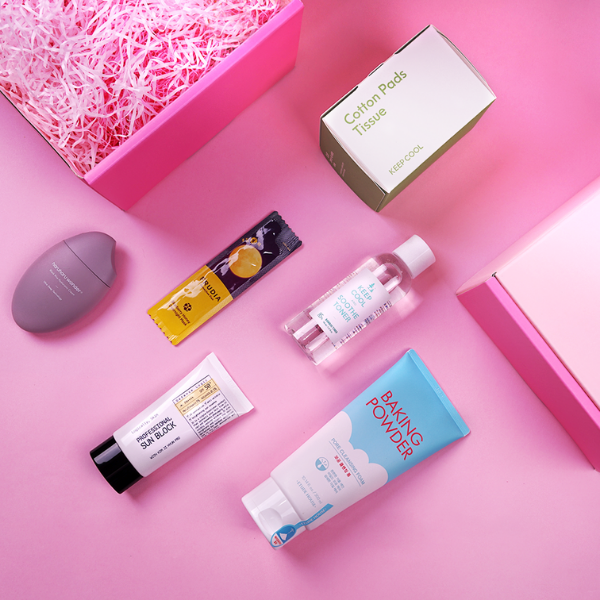 New to the skincare game and not ready to commit to a 10-step Korean skincare routine yet? Let this Skincare Starter Box get you started with a simple 6-step routine featuring our most-loved basic skincare essentials. Build your own skincare routine starting today with 6 STYLEVANA-approved K-Beauty staples from Keep Cool, Haruharu WONDER, Etude House, Logically, Skin, and FRUDIA that will definitely make you come back for a second box!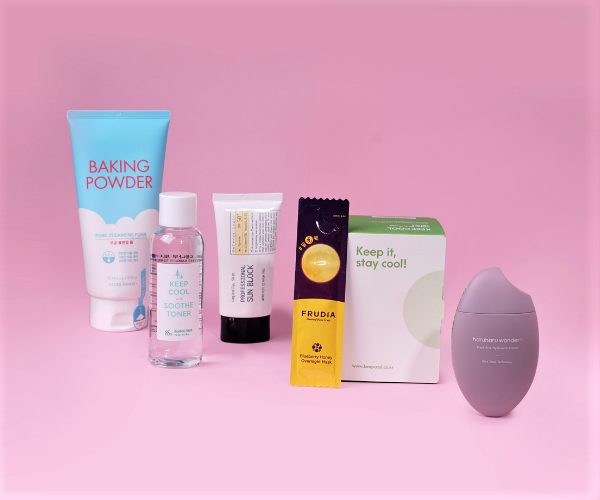 What you'll get:
1. Etude House's Baking Powder Pore Cleansing Foam cleanses your skin perfectly without stripping away your moisture while removing impurities and dead skin cells from pores with fine baking powder.
2. Keep Cool's Soothe Bamboo Toner harnesses a whopping 85% bamboo water which helps skin retain moisture and freshness while matching the skin's acidity of pH5.5 to restore a healthy balance of your skin.
3. Keep Cool's Tissue Cotton Pads are made with certified 100% pure premium cotton that maximizes both comfort and cleanliness for your makeup removal step.
4. Haruharu WONDER's Black Rice Hyaluronic Cream unites two star ingredients, fermented black rice + hyaluronic acid, to bring a boost of anti-aging nourishment while protecting your skin against free radicals during the day.
5. FRUDIA's Blueberry Honey Overnight Mask rejuvenates your tired skin as a daily remedy to strengthen your skin's natural protective barrier, thanks to the antioxidant blueberry extract + honey extract.
6. Logically, Skin's Professional Sun Block is a zinc oxide formula with niacinamide + glycerin that focuses on skin moisturization for dry skin type and helping skin's oil-moisture balance with broad SPF50+ sun protection.
---
STYLEVANA Exclusive
For Anti-Aging & Youthful Skin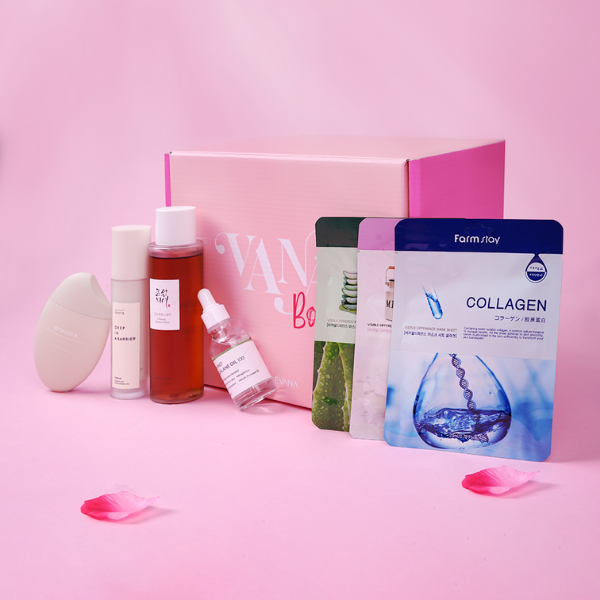 Breathe new life into your skin with this Wrinkle Fighter Box that contains all the wrinkle-fighting heroes you need for a youthful glow. Introducing the best Korean skincare picks packed with collagen, ginseng + other powerful anti-oxidants, this VANA Box consists of 7 multi-functional anti-aging bestsellers from top Korean skincare brands including Sioris, Haruharu WONDER, BEAUTY OF JOSEON, PURITO, and Farm Stay.
What you'll get:
1. BEAUTY OF JOSEON's Ginseng Essence Water is loaded with 80% Ginseng root water and a mighty ginseng complex to help prevent pigmentation and wrinkles caused by UV rays while boosting all-day hydration to further protect the skin from external stimuli.
2. Haruharu WONDER's Black Rice Hyaluronic Anti-wrinkle Serum has an antioxidant-rich formula featuring fermented black rice + ultra-hydrating hyaluronic acid, to leave you with bouncy and firmer-looking skin.
3. Sioris' Deep In A Barrier Cream relieves and calms inflammation with green tea extract and centella asiatica extract while replenishes your skin overnight with organic citrus fruit water and tamanu oil for a youthful appearance.
4. PURITO's Plainet Squalane Oil 100 is a replenishing facial oil that features a lightweight, sugarcane-derived formula that penetrates the skin to hydrate and lock in moisture.
5. Farm Stay's Visible Difference Mask Sheet (Aloe) is filled with fresh aloe vera extract to visibly help refresh and rejuvenate the after-sun skin for a glowing skin result.
6. Farm Stay's Visible Difference Mask Sheet (Milk) is packed with fresh milk extract to moisturize and refresh tired skin to refresh with vitality.
7. Farm Stay's Visible Difference Mask Sheet (Collagen) contains water-soluble collagen to increase elasticity and restore the skin's natural radiance to look firm, smooth, and supple.
---
Want to catch up on the first two VANA Boxes to explore your options? Read Part I of our VANA Box guide where we introduced the Beauty A-Lister Box and the Acne-Busting Hero Box. Follow us on Instagram and Facebook to get more instant product updates and skincare tips!