When I first introduced sheet mask to my skincare routine, I was amazed by the results and how glowy my skin looked afterwards. It was a love-at-first-try until I realize there are so much more to explore and learn about making the most out of a good sheet mask! As a proud (and consistent) sheet masker, I believe that sheet masks can solve most — if not all — of my skin problems and have been my go-to self-care fix. So from extending the life of your mask to learning to get better results for your skin, here are 5 best sheet mask hacks that will make sure that you're using up every bit of goodness in that pouch!
---
1. Apply the extra essence in the sheet mask pouch
Are you really using a sheet mask to its fullest if you don't use up every single last drop of the essence that's left inside the sheet mask pouch? Yes, sometimes it's all about the leftover essence more than the sheet mask itself because that's basically where all the hefty ingredients ~thrive~. So if you're lucky enough to find a sheet mask as heavily loaded as the BEAUTY OF JOSEON Centella Asiatica Calming Mask, love it, treasure it, and slather on the every single ounce of essence there is in the sheet mask pouch to let your sensitive skin fully soak up the nourishment before applying the mask itself. Think of it your bonus essence step, or like a serum, after your toner step to glaze your skin with enough hydration and nutrients.
BEAUTY OF JOSEON - Centella Asiatica Calming Mask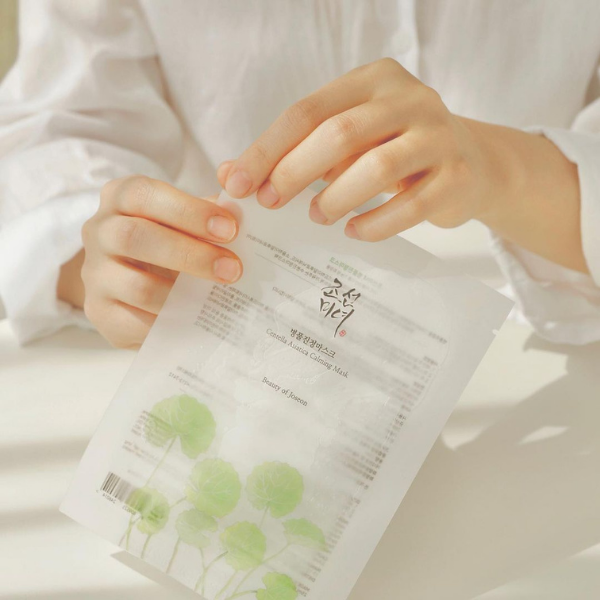 Courtesy of Korean Skincare Brand - BEAUTY OF JOSEON
The BEAUTY OF JOSEON Centella Asiatica Calming Mask is formulated with 15% centella asiatica and 3 types of hyaluronic acid to moisturize skin and strengthen skin barrier while soothing any irritation and inflammation. It also gives your skin a good feeling of firmness like you just got out of a spa treatment. Made with ingredients that are EWG-based green grade, this Korean face mask sheet is totally safe for your skin and the environment.
Bonus Tip: You can keep the excess essence in a clean container and add in a few cotton pads to turn it into a DIY sheet mask all on itself. Just close up the container, put it in the fridge overnight and let the cotton pads absorb the remaining essence. If you need the extra nourishment, just lay the cotton on your face and enjoy an extra sheet mask treatment.
---
2. Use the sheet mask on other parts of your body
Here's another way to extend the life of a sheet mask: use it on other parts of your body! Who says sheet mask is only for your face? There's actually a whole other side of the sheet mask that has yet to come in contact with your skin, and there's undoubtedly some remaining essence there. So my favorite thing to, after finishing a 20-minute mask treatment, is fold the mask in half and wrap it around my neck for a little extra TLC, especially with a collagen mask like the Mediheal Upgrade x3 Collagen Impact Essential Mask to give those neck lines a break.
Mediheal - Upgrade x3 Collagen Impact Essential Mask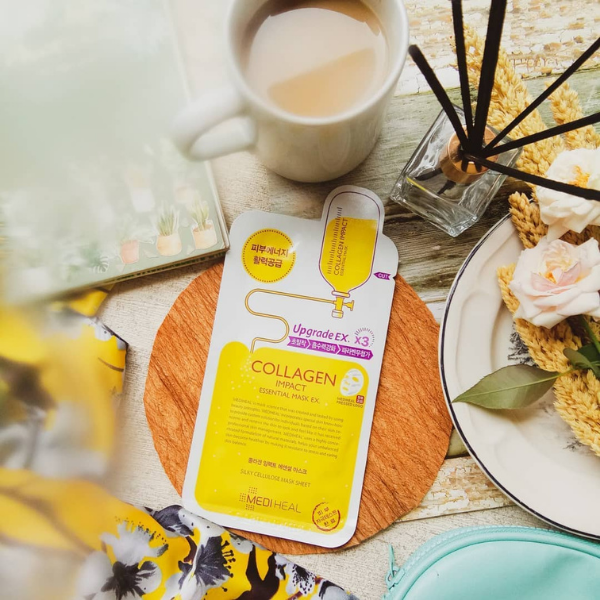 Courtesy of Korean Skincare Brand - Mediheal
In case you thought you didn't need collagen (yet) just because you're in your mid-20s, the Mediheal Upgrade x3 Collagen Impact Essential Mask is here to change your mind. Collagen-loss starts as early as you hit 25 so an intensive collagen replenishment is a necessary step - starting with this Mediheal holy grail face mask sheet. It contains hydrolyzed collagen and hydrolyzed elastin that will revitalize your skin and prevent skin dryness. The upgraded 'Clear Fit' function also boasts V-zone care that helps tighten your facial line and leave your complexion looking bouncy and glowy just in time for spring.
---
3. Use your sheet mask at the right step
The rule of thumb of layering your skincare product is to follow the "thin to thick" principle, which means you should always apply your sheet mask after your regular toner, essence, and serum steps — not before.
SKIN1004 - Madagascar Centella Watergel Sheet Ampoule Mask
Courtesy of Korean Skincare Brand - SKIN1004
Sheet mask essences typically contain penetration enhancers like butylene glycol and propylene glycol/propanediol which can help other ingredients piggyback on the sheet mask effects to sink and absorb much more quickly and thoroughly into the skin. That's why you should try the SKIN1004 Madagascar Centella Watergel Sheet Ampoule Mask for immediate skin soothing and moisturizing after your serum step. This sheet mask pack contains three times the nutrients from the brand's Madagascar Centella Ampoule and is every glow-getter's favorite.
---
4. Add a few drops of face oil under the sheet mask
Remember the penetration enhancers I talked about from a sheet mask? They can actually help your skin soak up more nourishment from a facial oil, too. If you already have a facial oil that your skin likes? Perfect. The trick is to take a few drops (less is more!) and gently pat it onto your skin right before putting on your sheet mask. If you currently don't have a favorite facial oil, start out with something fairly lightweight to test how thick of a facial oil your skin needs. One of my all-time favorites, and a great candidate for the oil-under-mask trick, is the ROVECTIN Skin Essentials Barrier Repair Face Oil.
ROVECTIN - Skin Essentials Barrier Repair Face Oil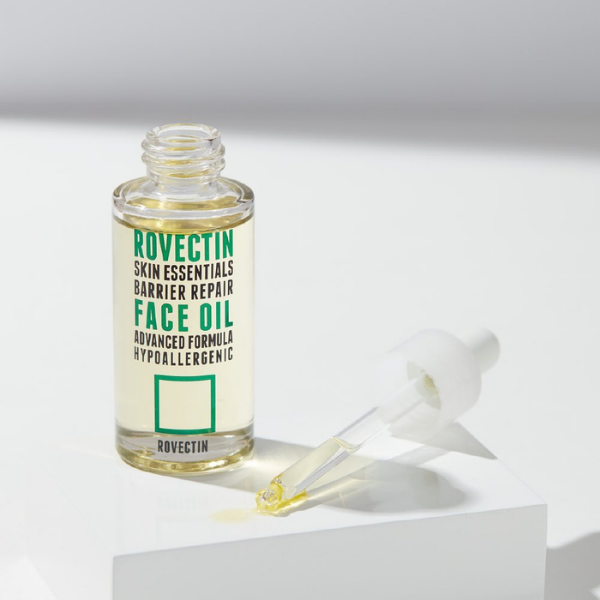 Courtesy of Korean Skincare Brand - ROVECTIN
Rich in vitamin E, the ROVECTIN Skin Essentials Barrier Repair Face Oil also features neroli oil and other nourishing ingredients to deeply hydrate dry skin and combat signs of aging. This lightweight oil-and-water blend sinks in quickly and pairs beautifully with ROVECTIN's Skin Essentials Dr. Mask Aqua Pack sheet mask to boost the hydration and antioxidant power for your skin.
---
5. Schedule your multi-masking sessions wisely
Some people go by one mask per week while some people have a more tightly packed masking schedule — aka the multi-maskers. For me, I squeeze in a little exfoliation and clay mask treatment every now and then when my skin needs the extra TLC. But that can also affect my moisture barrier and dry up my skin faster. That's why I always use a sheet mask to replenish my skin with hydration after exfoliation or clay mask to let my moisture barrier recover.
Dr. Jart+ - Ceramidin Facial Barrier Mask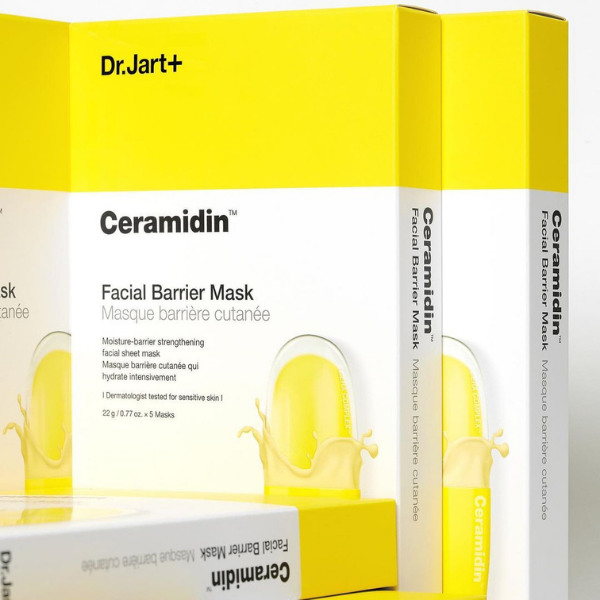 Courtesy of Korean Skincare Brand - Dr. Jart+
YOU MIGHT LIKE: How to Multi-Mask with Clay Mask, Mud Mask & Sheet Mask
Follow up your clay mask with a soothing, hydrating sheet mask like the Dr. Jart+ Ceramidin Facial Barrier Mask to restore moisture and softness to your skin and smooth over your rough, irritated complexions with its ceramide-rich essence. Packed with skin-soothing ingredients like ceramides, this Dr Jart sheet mask is ultra-moisturizing and skin-fitting so you can get the well-rested glow your tired skin deserves.
---
Using these sheet mask hacks makes sure you're milking your mask for every (literal) drop (of essence). Happy masking — don't forget to stock up on the best sheet masks for your skin condition and switch up your routine! Follow us on Instagram and Facebook to get more instant product updates and skincare tips!