I didn't realize that hand care would be so important until I saw some pics of K-pop male idols with beautiful hands on Instagram, like BTS, Infinite, EXO, and you name it. (Surprised, but not surprised.) They got prettier hands than me (or many girls). Since then, I was suddenly into finding tips for hand care. Using hand creams is the key and the simplest approach to hydrate, nourish, and protect hands from dryness, sweating, and UV and also the harsh weather of Fall Winter.
The effects of hand cream matter, but would it be a bonus when it also has an adorable package? This time, I've picked the BEST 5 hand creams that I 've tried. With potent hydrating power and a cute packaging design, these hand creams would definitely be your favorite go-to for the coming fall and winter.
---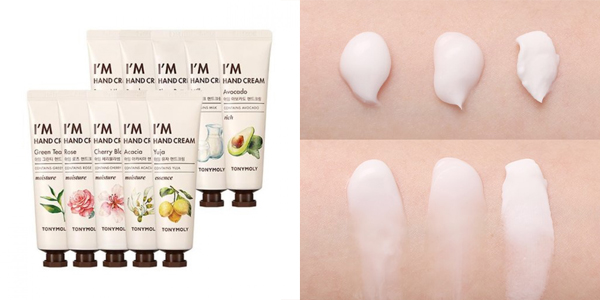 New Season, New look! The "I'm Hand Cream" collection from Tonymoly comes back with new packaging. Since the line-up was launched, it's been one of the best sellers when it comes to hand care products from Korea. The fact that the series has earned all the love from many of my girlfriends isn't surprising cause it is offered in 10 scents (like cherry blossom, green tea, and rose for us to choose! Each scent also offers different functions: "Berry Mixes" works best for anti-wrinkle properties; "Green tea" helps revive the hands; and "Avocado" provides ultra-nourishment with vitamin E. Whatever your needs are, you could find the right hand cream that works for you. Except for the wide range of choices, the rich texture and natural fragrances are also the points that entice me.
---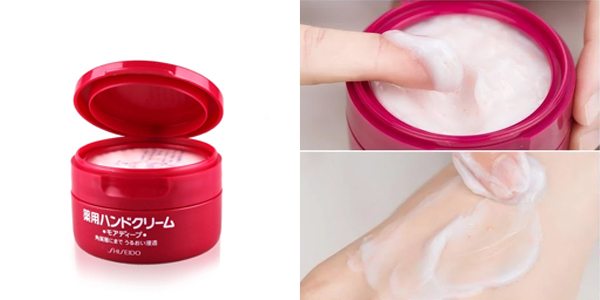 I suffered from dry hands easily, especially when there is a sudden change in humidity (needless to say, it's Fall now...) or being in an air-conditioning environment for few hours. I sometimes feel a bit itchy on the back of my hands, but scratching that only makes thing worse. For very sensitive hands like mine, a medicated hand cream that contains Vitamin E would be a good solution. Shiseido offers this red pot of hand cream which impressed me so much at the first try. The color of the packaging, red, set me off trying it and I was so excited to see how it would work. As expected, the cream was fully absorbed by skin, and the stinging feeling from dryness was gone little by little. After using it for a week, my hands felt much more hydrated and soft.
---
Milk essence-infused skincare products are well-liked by people around the world. What about hand care products with milk protein formula? This best-selling hand cream from Beauty Buffet highlights its combination of pure milk extracts, Vitamin C and B5. The product is cruelty-free, 100% natural, and suitable for all skin types. What could you ask for more? The reason that I love this hand cream so much is the mild fragrance and the rich-but-not-greasy texture, which make it "delicious" to my skin.
---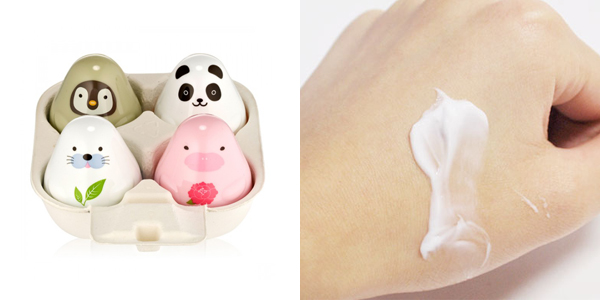 When I first spotted these hand creams from Etude House, I knew that they are going to be a hit. Look at the panda and the harp seal! To be honest, I tried them for their cute animal looks. Though I didn't expect significant effects from its cute packaging, these adorable "animals" prove me wrong. Formulated with shea butter, the hand cream gives lasting and gentle moisturizing care to dry hands. The oil extract from olives effectively combats skin problems caused by harmful environment, while improving skin immunity. I felt good (mentally and physically) when I carried them in my bag, and I hope these hand cream will also put you in a nice mood.
---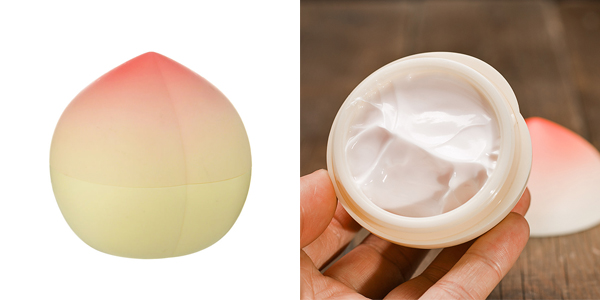 If you're a fan of peach products like me and are searching for a solution for cracked hands, this babe would perfectly cater to you. Before I got it, I already knew that it's well-liked for its sweet peach scent; but after I read the formula, I clicked the "add to bag" button right away. You got peach extract, shea butter, and Adenosine (a powerful anti-wrinkle ingredient) in a cute screw-off "peach" and it only costs about $5 at Stylevana! It's just an affordable, sweet treat to hands. Looking for more variety? Tonymoly offers two more amazing choices: banana and tangerine. Pick the fruit you like and bring it home!
The first glance: face; the second look: hands! Hand care is just as important as face care, so never brush it off in your skincare routine! Check out more hand care products to give your hands some TLC.
Interested in more K-beauty tips and products? Sign up for our newsletter and register to get 15% off on your first purchase!