So what's the big diff between honey, propolis and royal jelly? If you're new to Korean skincare, this question might have haunted you before and had you scratching your head muttering "they probably have something to do with bees..." with a confused look. Although these three ingredients, in fact, do have "something to do with bees," each of them is used, deprived or extracted in different ways. Nonetheless, they are equally nutritious and beneficial to your skin. To save your confused soul, just keep scrolling to see what the *buzz* between honey, propolis and royal jelly is about and how you can work them into your daily skincare routine!
---
- Honey -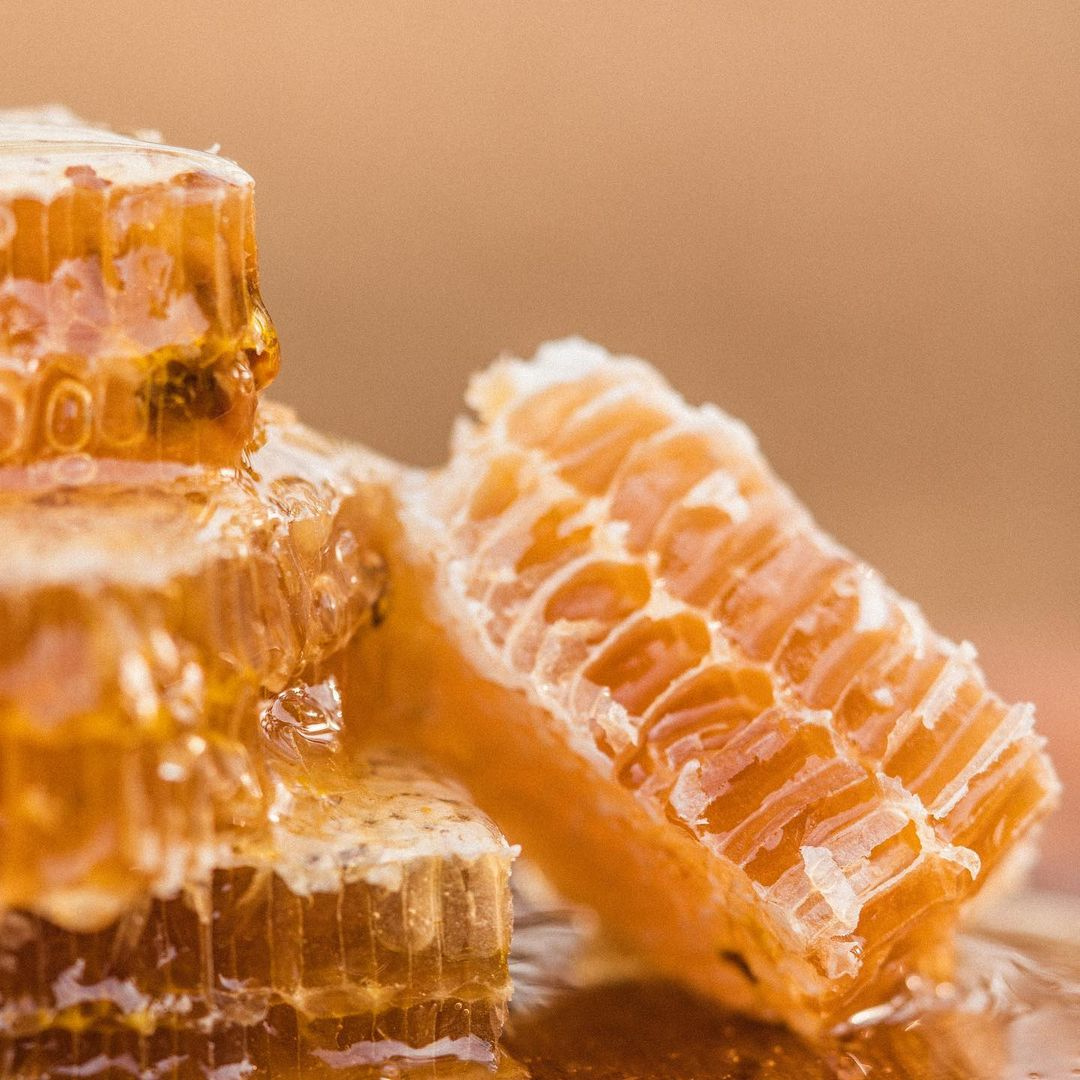 Courtesy of Korean Skincare Brand - I'm From
Honey is essentially a sweet liquid processed by the honey bee. Rich in sugar, honey is a natural, potent humectant, allowing it to retain moisture, hydrate, and plump skin from deep within. The enzymes and probiotics in honey skincare products work together enabling them to be easily absorbed into skin while gently conditioning and exfoliating at the same time. With continued use of honey and beeswax extracts in your skincare routine over time, you will observe improvement on your skin conditions; your skin will look radiant, glowing, and soft to touch. So yes, it's safe and healthy to use honey in your skincare routine every day as long as the honey skincare product is gentle and suits your skin type without being too overbearing.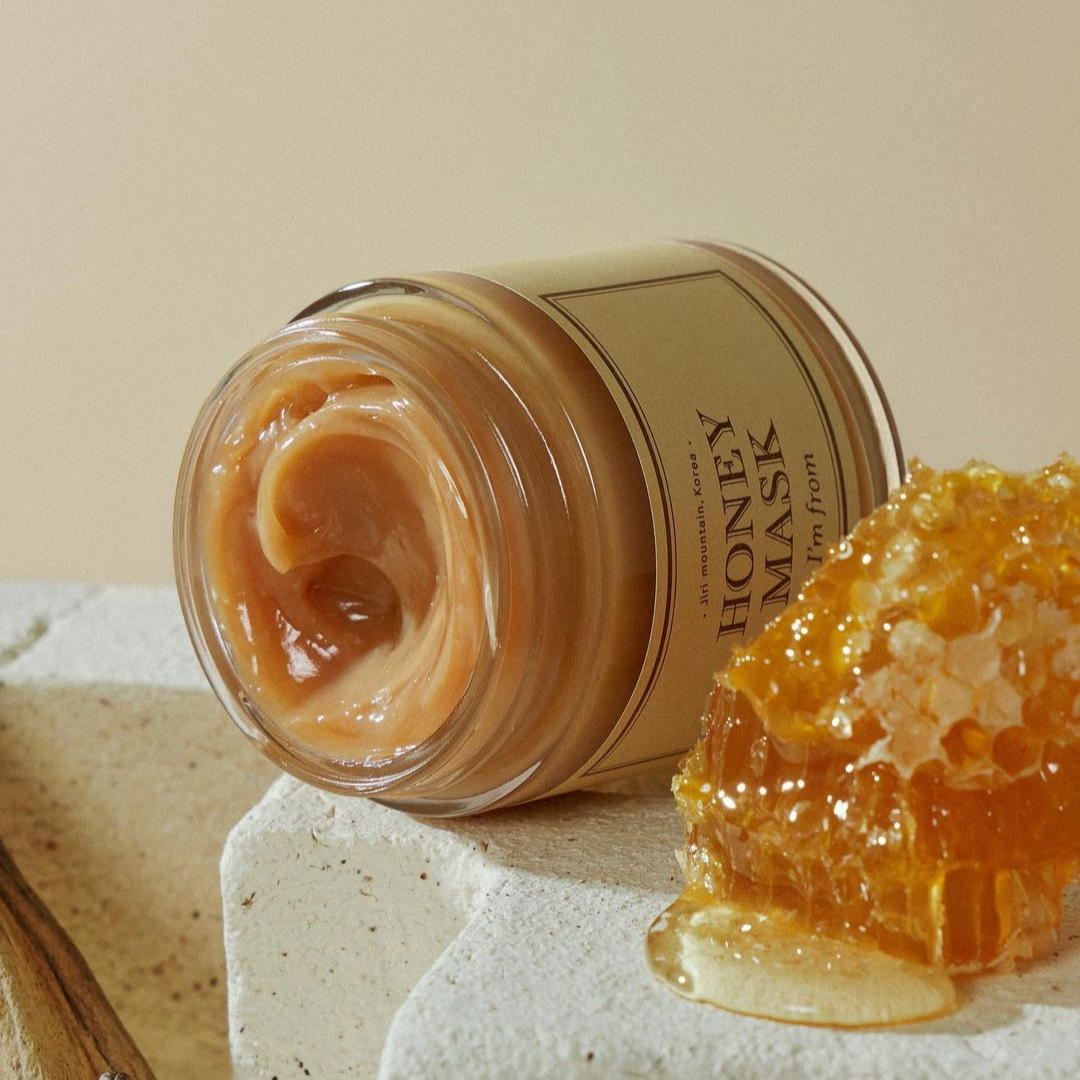 Courtesy of Korean Skincare Brand - I'm From
To work honey into your skincare routine, you can start with adding a honey mask into your daily routine which is one of the most coveted skincare products in the K-Beauty world. Our recent K-Beauty favorite, the I'm From Honey Mask, is a great treat for skin that needs just as much a detox as a hydration boost. This premium wash-off mask is extra gentle and nourishing and does not strip the skin like most wash-off treatments. Made with 38.7% natural honey from Mountain Jiri in Korea, this 10-minute Honey Mask combines propolis, bee venom and jojoba seed to deliver gentle pore-care while hydrating and nourishing your skin to keep it soft and supple.
---
- Royal Jelly -
Simply put, royal jelly is the creamy white secretions that come from the throat glands of honeybees. Worker bees feed these secretions to bee larvae during the first few days of life. It's the single protein, called royalactin, in royal jelly that causes a young bee larva to develop into a queen bee. Skincare experts and dermatologists have high praises for royal jelly as it harnesses a wide array of benefits for skin. Rich in protein, lipids, amino acids, minerals, and vitamins, not only does it help promote skin hydration and elasticity, it also helps fight skin inflammatio with bioactive compounds such as peptides, flavonoids, fatty acids, and phenolic acids, all of which make royal jelly a phenomenal skincare ingredient.
SKINFOOD - Royal Honey Propolis Enrich Essence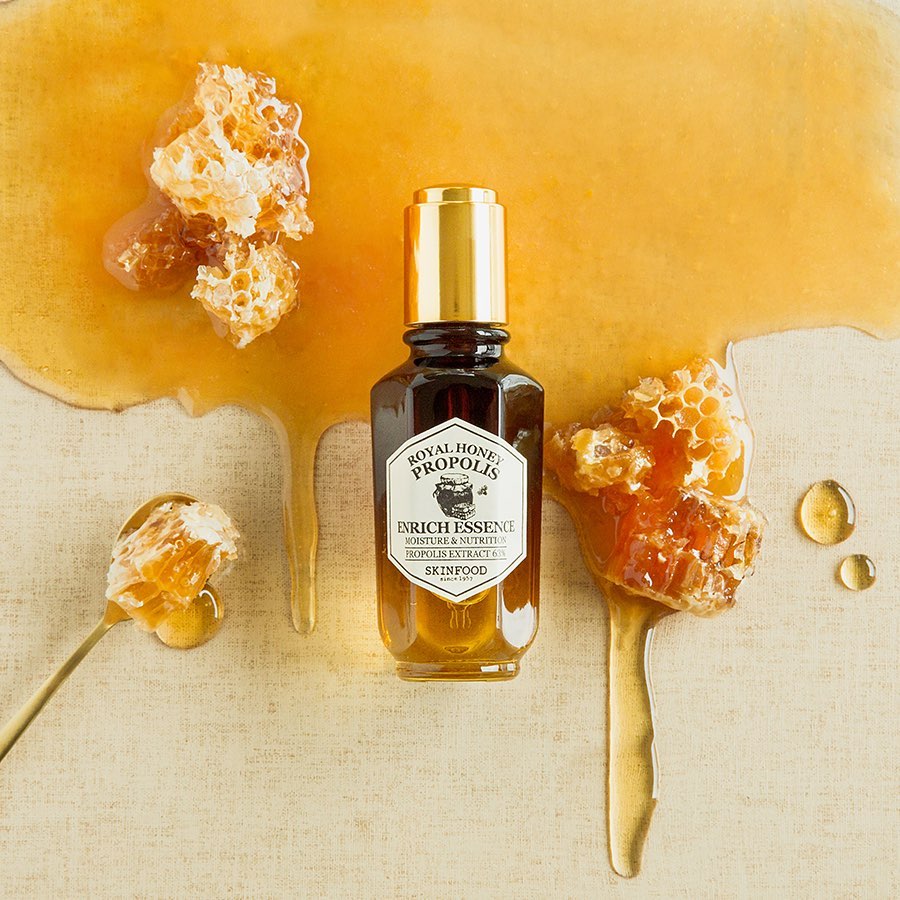 Courtesy of Korean Skincare Brand - SKINFOOD
Hailed for its highly-reparative power, the SKINFOOD Royal Honey Propolis Enrich Essence is a nutrition-packed essence that does a great job in healing and reviving your damaged skin with a much-needed layer of protection containing 63% black bee propolis extract, 10% royal jelly extract, and 10% black honey extract. If you want to strengthen your skin barrier after your breakout cycle, this honey essence will get the job done. It helps build a firm barrier to transform dull, lackluster skin into smoother, healthier skin with a visibly more radiant glow. With the added bonus of lactobacillus (a skin-loving fermented ingredient) and fermented yeast, this anti-oxidant rich essence delivers intense hydration and helps even out skin tone.
---
- Bee Propolis -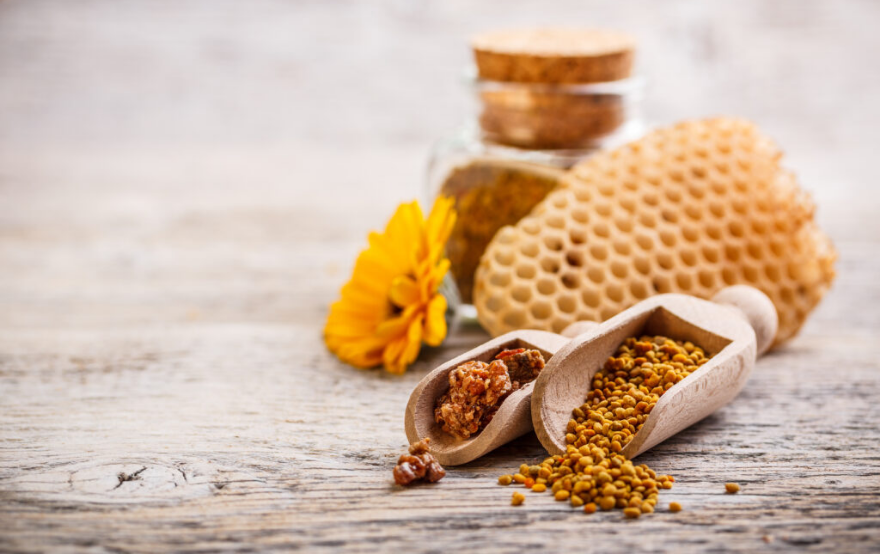 Unlike honey and royal jelly, bee propolis is derived from the sap of coniferous trees, such as pine and hemlock trees, which never lose their leaves. It is a resinous substance accumulated by the bees from different types of plants. Korean skincare products usually feature propolis extract to help skin retain more moisture and maintain a healthier, more vibrant complexion. Boasting a more gentle nature than natural honey, propolis works great on sensitive skin, and can even help reduce redness or acne-related inflammation, as well as speeds up the wound-healing process.
COSRX - Full Fit Propolis Honey Overnight Mask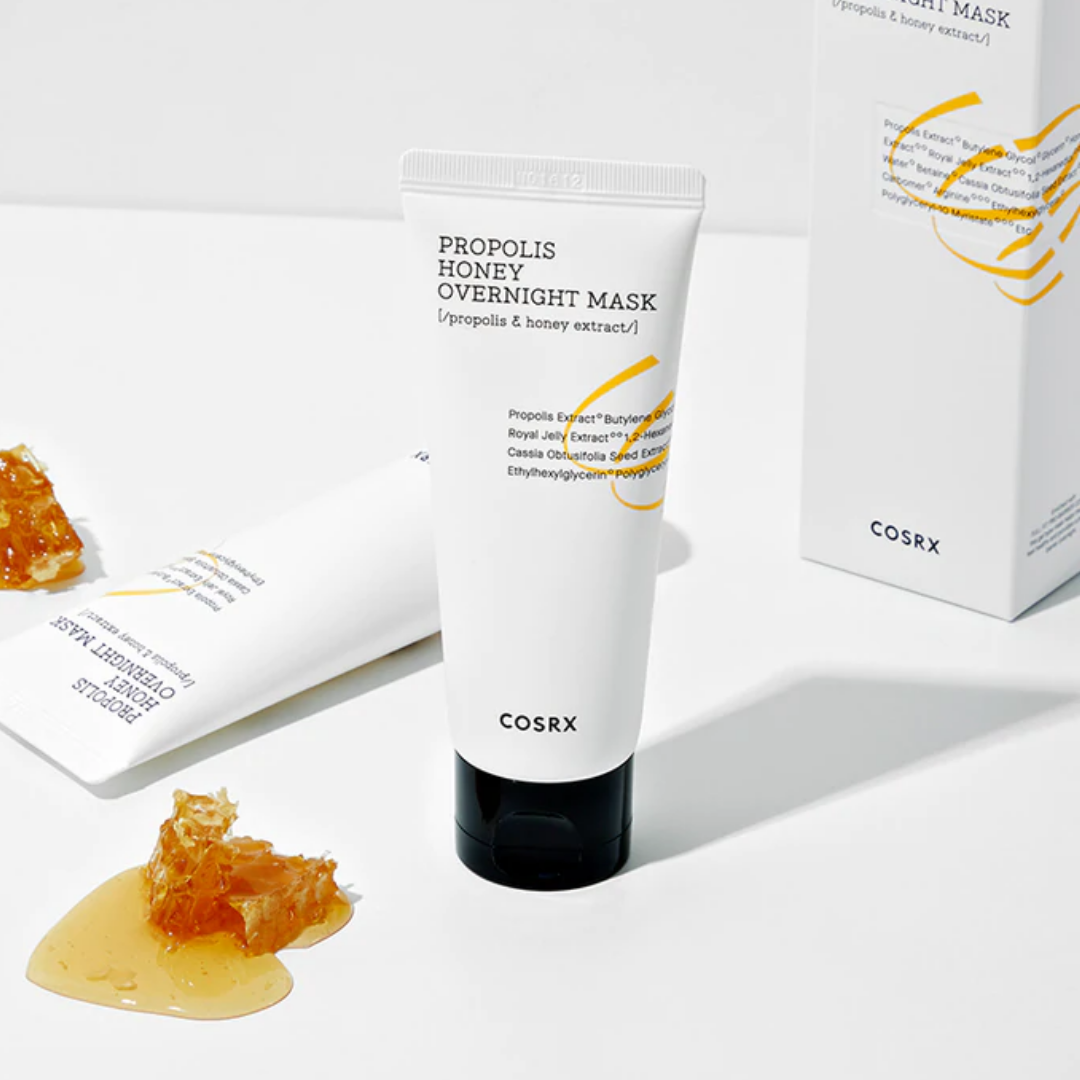 Courtesy of Korean Skincare Brand - COSRX
Formulated with more than 87% of Propolis Extract and natural beeswax, the COSRX Full Fit Propolis Honey Overnight Mask is the perfect overnight treatment to heal stressed skin and reduce redness and flare-ups, thanks to propolis' natural potent anti-inflammatory properties. This 3-in-1 hydrating gel mask feels refreshing on the skin, and it is good for cooling down sunburn or heated skin. Also, the texture is so lightweight that it is absorbed into the skin very quickly, leaving the skin hydrated and baby soft.
---
Want to test it out and see if honey, propolis or royal jelly is your next MVP ingredient? Pick up your most-favorite honey-infused products to refine your Korean skincare routine starting today! Follow us on Instagram and Facebook to get more instant product updates and skincare tips!
Disclaimer: We strongly recommend anyone with problematic skin conditions seek professional advice from dermatologists and sort out what ingredient works best for your skin type to get the result you want.